The February 1 meeting is at 7PM and scheduled for the Argonne Library on Argonne Road. Information on the library's location is below in the Library section.

IT IS PAST THE NORMAL TIME TO RENEW YOUR DUES FOR 2018. BRING MONEY TO THE FEBRUARY MEETING, MAIL TO OUR PO BOX AT THE TOP OF THIS PAGE, OR USE PAYPAL WHICH IS FEATURED ON THE HOME PAGE IN AN ARTICLE.
February Special Program
Rob Fanfant (N7QT), the leader of the 2017 "Mellish Reef DXpedition" (VK9MA), will be our speaker.
Rob led a 9-operator team, from November 3rd – 16th, 2017.
Mellish Reef, IOTA (OC-072) is currently #28 most wanted on Clublog.
They made a little over 43K QSO's from Mellish Reef.
CQ Zone: 30
IOTA: OC-072
Locator: QH72wo
Rob is an active DXpeditioner and has been on the air from:
• Nov 14th – Nov24th, 2015 – Middle Cay (VK9WA)
• Sept 29th – Oct 27th, 2015 – Manihiki (E51MQT)
• March 11 – 25th, 2015 – Montserrat (VP2MQT)
• October 3 – 13, 2014 – Austral Islands (TX5Z)
• Sept 18 – Oct 2, 2014 – Christmas Island, Australia (VK9AN)
• April 2-14th, 2014 – San Andres (5J0X, HK0/N7QT)
• Nov 16-24th, 2013 – Sint Maarten (PJ7/N7QT)
• Nov 7-15th, 2013 – Saba (PJ6/N7QT)
• October 2-14th, 2013 – Austral Islands (TX5D)
• April 5-16th 2013 – Saint Lucia (J6/N7QT)
• Dec 2-12th, 2012 – Saint Lucia (J6/N7QT)
NOTE: Rob is presenting at both Visalia and Dayton, but we get him first.
Robert Fanfant graduated from both U of WA and Washington State University with degrees in Electrical Engineering and Material Science.
Worked at Intel Corp manufacturing computer chips, transitioning into software development.
Retired in 2014 after a successful career at Applied Microsystem, Microsoft and software consulting.
He obtained his novice license (WB7TDU) when 14 years of age, eventually obtaining his Extra Class license in the mid 90's.
His primary passion is combining his love of travel and chasing DX.
Retirement has enabled him to also give back to the amateur radio community by also becoming the "DX".
If you have friends who are interested in DXing, we encourage you to invite them to the February meeting.
The program will be from 7 to 8 PM.; Business meeting will follow.
FUTURE PROGRAMS
March
Mel N7GCO will be presenting the program
1. "Station Tour of N7GCO". We are hoping to share a club members station at each meeting.
2. "Spotting tools"
• DX Spotting software – What's available and how to set it up
• Using the clubs DX net
• Using the clubs Google group
• Using the clubs repeater for spotting
3. "DX Information Sources"
April
1. "Station Tour of K7TQ"
2. Still being finalized.
May
1. "Building Receive Antennas on the low bands" by Bob Zavrel (W7SX). Bob will be showing the four square Receive antenna he built.
2. "Station Tour
————————————————————————————————

LIBRARY MEETING LOCATIONS:
Regular monthly meetings are usually alternated between Spokane County Libraries, and are always at 7:00PM the first Thursday of the month:
++++++++++++++++++++++++++++++
North Spokane Library
44 E. Hawthorne Road
A Spokane County library
LIBRARY LINK


NORTH SPOKANE LIBRARY ON HAWTHORNE ROAD
To get to the site, from I-90 go north on Division/Ruby (US-395 & US-2) until the two highways split (just over 6 miles). Continue north on Division (US-395, left at the "Y" split) to the second traffic light (first Country Homes, then Hawthorne) and turn right (east) onto Hawthorne. The library is one block east of Division; the entrance is on the south side of the building. Library phone number 893-8350.
To see a map of the North Spokane Library (Hawthorne Road), click MAP.
++++++++++++++++++++++++++++
Spokane Valley Library
12004 E. Main Street (behind Chase Bank on Sprague Avenue)
A Spokane County library
LIBRARY LINK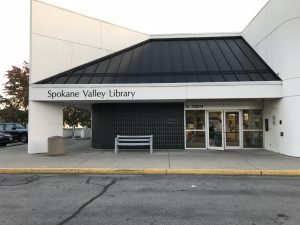 To see a map of the Valley Library, click on MAP.
++++++++++++++++++++++++++++
Argonne Library
4322 N. Argonne Road in Spokane Valley.
a Spokane County library
LIBRARY LINK

From I-90, take the Argonne Road exit and head north for about 1.5 miles. You will cross the river and proceed to the intersection at Upper River Drive. The library will be on your right. Library phone number 893-8260.
To see a map of the Argonne Library (Argonne Road), click MAP.
+++++++++++++++++++++++++++
Otis Orchards Library
22324 E. Wellesley Avenue. Otis Orchards, WA 99027 just east of Harvard and Wellesley
A Spokane County library
Library Phone number: 893‐8390
LIBRARY LINK