SEPTEMBER MEETING ANNOUNCEMENT


Thursday
September 3
7 pm
North Spokane Library on Hawthorne
Presentation: Dan N5AR on Yagi antenna performance

from our President:
Our Club is an important institution and a valuable addition to our amateur radio hobby of DXing and Contesting. To keep the club vibrant and members interested plus being able to attract new members, it is important to have our monthly meetings and activities be a magnet for participation.

To accomplish this, we should have a good discussion on what direction we should take to spice up our meetings, club activities and presentations. Please put your thinking caps on and send your comments to me, share them with a club officer or join the discussion at the next meeting this Thursday.

We all enjoy our hobby and the company of our fellow members; let's work towards improving our monthly meetings and in turn our enjoyment and success in radio.

73,
Chris WX7B
wx7b@arrl.net


SDXA DX NET
WILL RESUME SEPT 17TH



meanwhile, continue to use the 147.08 MHz repeater with the 100 Hz tone to communicate with SDXA members


WASHINGTON STATE QSO PARTY – THE SALMON RUN
SEPTEMBER 19-20


Announcing: 2015 Washington Salmon Run
This is the weekend operators across North America and worldwide look for QSOs with Washington state stations, and operators in Washington state look for QSOs with all 39 Washington counties and other stations outside Washington. Activity runs from 9:00 AM (1600Z) to midnight (0700Z) Saturday, and from 9:00 AM (1600Z) to 5:00 PM (2400Z) Sunday. Contacts count on SSB, CW, and Digital modes, even FM on 2 meters! The Salmon Run contact exchange is signal report and location (County for WA stations, and State/Province/DX for out of WA stations). There will be many portable and mobile stations out in the rarer counties, and look for the WWDXC Club station W7DX for bonus points on each mode. Join the on the air fun when you can, whether for an hour or the whole weekend. Who knows, your QSO and county may help someone win a Smoked Salmon Award this year!
See YOU in the Salmon Run!
Thanks to the 2015 Washington Salmon Run Committee: K7EDX, N7UK, K7SR, K7DSE, N7WA, K7BTW, and K7WA.
For more information and the County Activity List, see the Western Washington DX Club website:
www.wwdxc.org
SPOKANE HAMFEST
SATURDAY – SEPTEMBER 26

University High School in Spokane Valley
Here is the latest from the Hamfest people:
LATEST FLYER & REGISTRATION FORM (2 pages) LINK
BUY YOUR HAMFEST SHIRT LINK
SPOKANE QI LODGING LINK
QI INFORMATION SHEET LINK
The entrance fee is cheaper than a used 6146; the swap table fee is cheaper than 7 feet of Belden 9913F7 coax (the good stuff, not the leaky first version)

REMEMBER OUR JUNE FIELD DAY?
Pictures from the event, courtesy of Gary AD7XG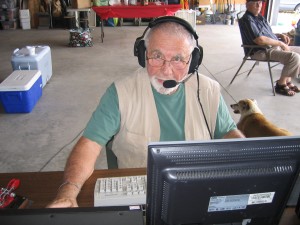 Steve W7VI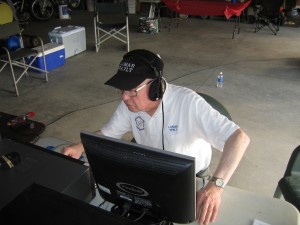 Lamar WA7LT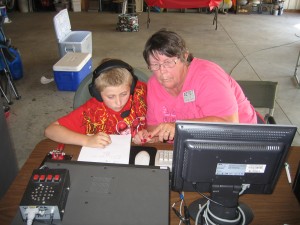 Mary Beth AE7GT and friend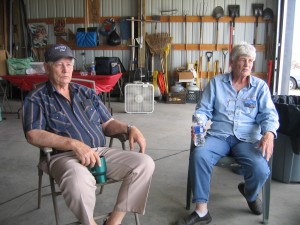 Jim KE7HTU and Gimmie AL7LB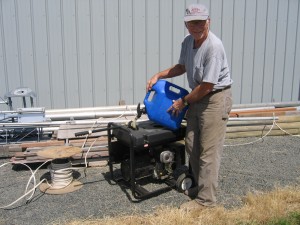 Gary AD7XG, the host

JULY MEETING MINUTES RELEASED
Use this LINK


INTRODUCING OUR NEW LOCAL ARRL- APPROVED CARD CHECKER


Bruce Wade, N7ZA
12467 E. Olive Ave.
Spokane Valley WA 99216
Day Phone: (509) 396-3082
n7za99@gmail.com
Bruce is a recent member of the SDXA and is a former card checker for the Tri-Cities. Bruce is replacing our former SDXA President and card checker Wayne WA1PMA who is riding his white stallion off into the sunset of Florida and beyond. Wayne could check 160 meter cards because of his personal 160 meter DXCC. The other longtime local card checker is Jay WS7I. The ARRL offers a search feature to find local card checkers at this CARD CHECKER LINK.

SDXA SUMMER PICNIC A SUCCESS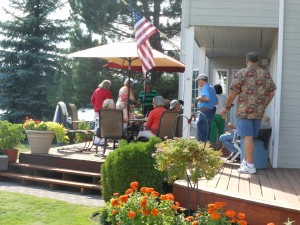 QSOs on the porch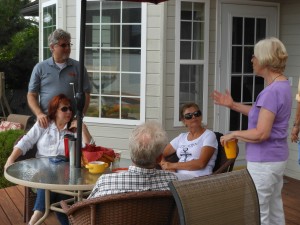 Maybe President Chris WX7B listening to a potential voter in the November election?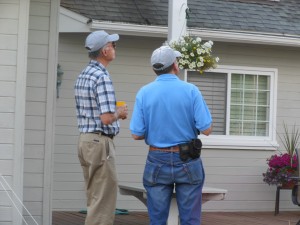 Randy K7TQ AND Jay WA0WWW sizing up Al's new antenna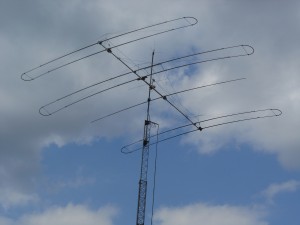 Here is the antenna they are sizing up!
The picnic was again held at the QTH of Al W7AL and Cheri in Snug Harbor of Sandpoint, ID. Thanks to the family for the hospitality and the tour of the grounds. Its a boat anchor heaven and a DXer's modern high power station too. Here are some pictures of the event. The next big event will be our annual Awards Banquet in December; particulars to be announced when they arrive.

THE ORCA DXCC CLUB IN CANADA WON
THIS YEAR'S PNW CHALLENGE CUP COMPETITION.
SDXA TOOK 5TH OF THE 6 CLUBS.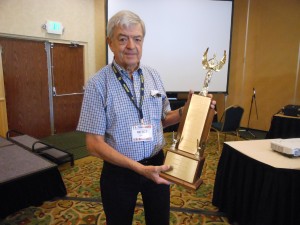 Steve VE7CT Orca DXCC Club Vice President accepting the trophy
PNW CLUB SCORES (2-page pdf) are posted at this
FINAL RESULTS LINK.
The competition is between the six NW DX clubs:
– BC DX Club LINK
– Idaho DX Association LINK
– Orca DXCC Club (new) LINK
– Spokane DX Association LINK
– Western Washington DX Club LINK
– Willamette Valley DX Club LINK
HOW DID THE SDXA MEMBERS DO IN THE CHALLENGE?
Here is the tally of our members' results: SDXA SCORES LINK

7QP RESULTS ANNOUNCED
THE 7-LAND QSO PARTY HELD IN MAY, 2015

1. George W6AEA had 133,245 points and took 3rd in the Single Operator High Power CW category.
2. Gary K7GS had 18,981 points in the Single Operator Low Power CW category.
3. Randy K7TQ (and Jay WA0WWW) had 74, 424 points in the Mobile Multi-Single Low Power CW category. They activated 18 counties in ID/OR/WA. Randy says their certificate says:
Second Place, 7th-Area Mobile Multi-single Low-Power CW
First Place, Adams County, Idaho
First Place, Gem County, Idaho
First Place, Idaho County, Idaho
First Place, Nez Perce County, Idaho
There was a 25-QSO minimum per county to receive a certificate. We
qualified in 9 counties and won in 4 of them.
Here is a LINK to the 2015 Writeup.
Here is a LINK to the individual scores.
The plaque sponsored by SDXA for the Single-Operator Digital category High score went to N7AM of Pima, AZ.
The Latest News



SDXA CALENDAR

SDXA Sept Meeting Sept 3
2-mtr DX net Sept 17
Salmon Run Sept 19-20
Spokane Hamfest Sept 26
SDXA Oct meeting Oct 1
PNWVHFS Conf Oct 10-11
SDXA Nov meeting Nov 5
SDXA Awards Banquet TBD




JOIN THE SDXA


Regular dues – $20 per person.
Second family member – $10.
Under 19 years of age are free.
DUES LINK.
We accept PayPal too.



WANT TO ATTEND A NW HAM RADIO CONVENTION OR SWAP MEET?

Lynn N7CFO keeps the best listing.




2015 SDXA MARATHON; MANY CATEGORIES TO WIN AN AWARD


The 2015 local contest runs from January 1, 2015 to October 31, 2015. Rules and spreadsheet form are at:LINK.






HAVE YOU WON A RECENT AWARD?

If you have achieved a recent, important award, let us know so we can publicize it.
Photos appreciated.
Send to: stetrekve at hotmail.com



SDXA DX NET

on vacation until September 17
147.08 MHz, 100 Hz tone

Randy W7TJ
Net Control




DX NEWS LINKS

by Randy W7TJ
.
1. DX WORLD.NET

2. ANNOUNCED DX OPERATIONS
3. DX SUMMIT
4. I2MQP DX NEWS
5. DXCOFFEE




SDXA MEDIA LIBRARY




INTERNET ENTITY PRONOUNCER

How do you pronounce a DX entity's name? Do you battle it out at the club meeting with another DXer? Here is a link to the pronouncing. There is also a audio link to a human voice saying the entity's name correctly. This authority is the 3rd edition Merriam Webster Geographical Dictionary.
More Information




MEMBERSHIP ROSTER ACCESS

Active SDXA members can request a copy by email. Contact Secretary Jay WA0WWW. A simple list of members, and links to their QRZ.com sites, is at the Membership Tab.
Recent News
SDXA NAME BADGES BACK – NEW LOCAL SUPPLIER


.
WELCOME NEW MEMBER – MEL MING N7GCO


.
MORE AWARDS FOR JOE KF7PBM OF OKANOGAN


.
ARRL 2014 CENTENNIAL AWARDS NOW AVAILABLE


.
A 7QP ADVENTURE WITH RANDY K7TQ AND JAY WA0WWW


.