JULY, 2017 MINUTES LINK

ANNUAL SDXA SUMMER PICNIC
SHADLE PARK, OFF OF WELLESLEY
SATURDAY – NOON TO 4 PM
AUGUST 26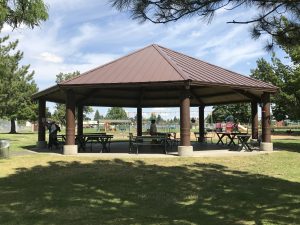 SHADLE PARK PICNIC GOOGLE MAP LINK
Its address is 4302 N. Belt Street and it occurs in the Large Shelter shown above. From Wellesley, turn South onto Belt Street which is between the Shadle Library and McDonald's. The big green water tower is on your left and the large shelter is just to the East of the water tower. You can park on the east side of Belt.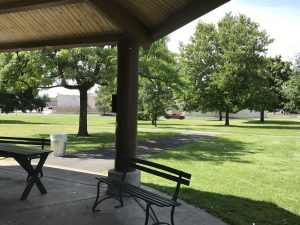 This is a photo of my parked Toyota on Belt Street, taken from the large shelter.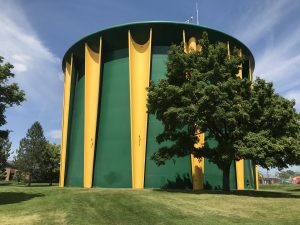 cool water tower; guess what Shadle Park High School colors are?
It is a potluck event in which the SDXA will supply the soda pop drinks, knives, forks, and spoons plus napkins. When you come, bring a favorite dish (hot, cold, desert, meat, salad, sides, etc.) or visit your favorite KFC, Taco Bell, etc. for the Colonel's and Gidget the Chihuahua's favorites. Bring a serving instrument for your dish too.
There are 21 rules for using the Park. Here are a couple:
no golfing
no panhandling
no cutting of trees
no digging holes
no liquor or beer
animals must be on a leash
and many others too numerous to mention
PREVIOUS SUMMER PICNICS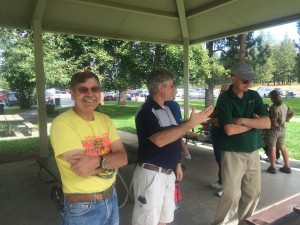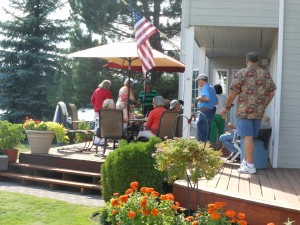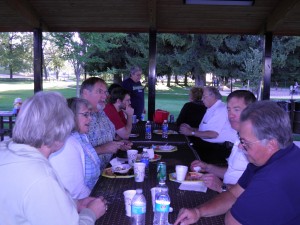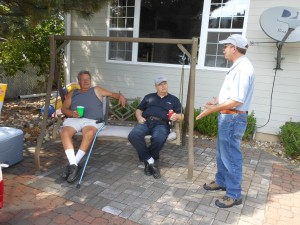 ANNOUNCING 2017 SALMON RUN CONTEST
SEPTEMBER 16-17
This is the Washington state QSO party sponsored by the Western Washington DX Club (WWDXC) from Seattle. Washington state based hams work everyone and non-Washington state hams work only Washington state hams. Some of the multipliers are the 39 Washington counties and W7DX the official Salmon Run HQ station which gives you lots of points for working it. Here is some links for further information:
SALMON RUN SDXA-SPONSORED PLAQUE WINNERS SINCE DAY ONE LINK
SDXA sponsors a plaque for the highest score in the following mixed category:
Single Operator
Operating in the EWA ARRL Section
Running Low Power of 100 or less watts
Mixed Mode (two or mode modes with a percentage specified in the Rules)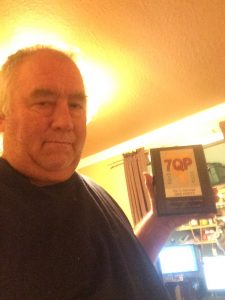 PAT MURPHY N7UVH FROM POST FALLS, ID SHOWS HIS SDXA-SPONSORED HIGHEST SCORE DIGITAL MODE PLAQUE FROM THE 2017 7QP CONTEST RECENTLY
THE PNW DX CONVENTION IN SPOKANE IS OVER
THE 2016-2017 PNW CHALLENGE CUP TROPHY WAS WON BY THE WILLAMETTE DX CLUB OF PORTLAND
SEVERAL OF OUR SDXA MEMBERS WON SIGNIFICENT PRIZES
NEXT YEAR'S CONVENTION IS IN VANCOUVER, BC IN AUGUST
MANY THANKS TO THE IDAHO DX ASSOCIATION FOR THEIR CO-SPONSORSHIP OF THE CONVENTION
PICTURES FROM THE CONVENTION: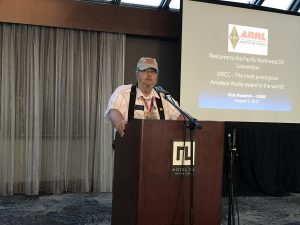 Chuck Williams KI7DG was MC and Announcer for the convention.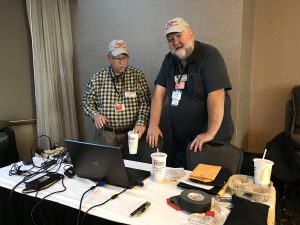 The A/V men: Mel Ming N7GCO and Del Morissette WA7AQH.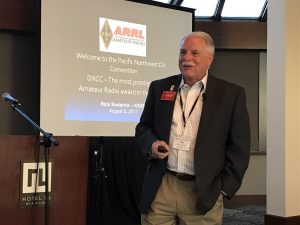 Rick Roderick K5UR, President of the ARRL, presenting "The DXCC Program."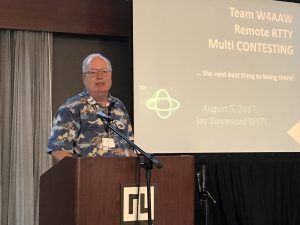 Jay Townsend WS7I presenting "Remote RTTY Contesting from W4AAW."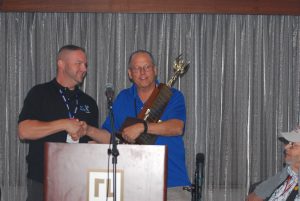 The Willamette DX Club wins the Challenge Cup Traveling Trophy for the ten-contest event between PNW DX Clubs. IDXA President Emmett Mccormick NA7EM presents the trophy to WVDXC President Mike Ritz W7VO.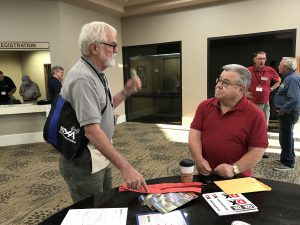 Super raffle ticket salesman Dale Avery WU7X sells multiple strips of raffle tickets. He was a "go-getter" in this endeavor.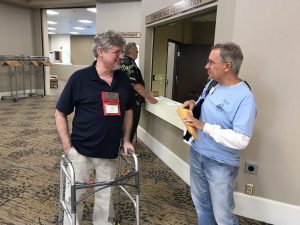 SDXA President Chris Pritchard WX7B chats with Goeff Howard W0CG/PJ2DX/PJ2T. Geoff was one of the seminar presenters.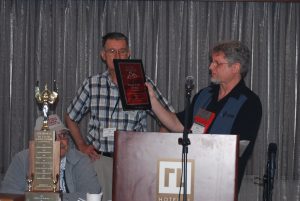 SDXA President Chris Pritchard WX7B presents a special plaque to Convention Chairman Randy Foltz K7TQ for thanks for the convention.

CLUBLOG
NA WEST COAST – MOST WANTED LIST
(as of July 20, 2017)

1. SV/A MOUNT ATHOS
2. FT5/W CROZET ISLAND
3. P5 DPRK (NORTH KOREA)
4. 3Y/B BOUVET ISLAND
5. FT/G GLORIOSO ISLAND
6. YK SYRIA
7. EZ TURKMENISTAN
8. FT5/X KERGUELEN ISLAND
9. ZS8 PRINCE EDWARD & MARION ISLANDS
10. BV9P PRATAS ISLAND
11. BS7H SCARBOROUGH REEF
12. T5 SOMALIA
13. 5A LIBYA
14. CE0X SAN FELIX ISLANDS
15. PY0T TRINDADE & MARTIM VAZ ISLANDS
16. 3A MONACO
17. VK0M MACQUARIE ISLAND
18. E4 PALESTINE
19. AP PAKISTAN
20. KH1 BAKER HOWLAND ISLANDS

NEW SDXA TREASURER
MEET BOB LEE N7AU

His term starts now and ends with calendar year 2017; Bob is also our Net Control for the SDXA DX Net on 145.25 MHz the 3rd Thurday of each month at 7 pm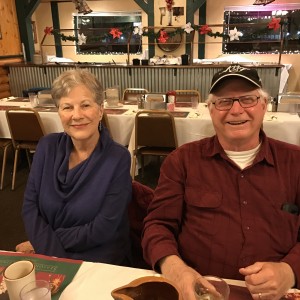 Bob and his wife Diane at the
SDXA Awards Banquet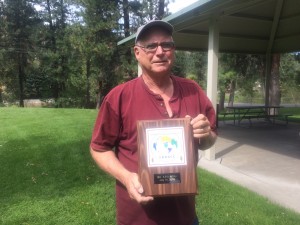 Bob shows off his plaque for the 5BDXCC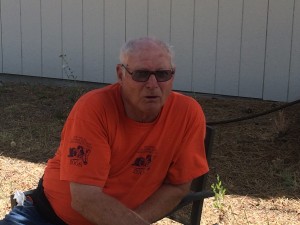 Bob helping take down the towers at WA7LT's

SPOKANE HAMFEST
UNIVERSITY HIGH SCHOOL
SEPTEMBER 23
HAMFEST LINK

SOLAR ACTIVITY AND PROPAGATION SECTION

This feature is always at the bottom of the web page so I thought I would bring it up top to reintroduce it back to some of you.
For additional info, try this SOLAR LINK for everything you ever wanted to know about the current Sun at the SolarHam site by VE3EN
Here's a link to SPACEWEATHER.COM, a quick source for the daily activity on the sun
What is this?

THE SDXA LIBRARY
check out a book or video from
Jay WA0WWW the Secretary
LIBRARY LINK
The Latest News



SDXA CALENDAR

2017

Aug 21 Total Sun Eclipse
Aug 26 SDXA Picnic – Shadle Pk
Sept 7 SDXA meeting
Sept 16-17 Salmon Run
Sept 23 Spokane Hamfest
Oct 14 PNWVHFS Conference
Dec 7 SDXA Awards Banquet




JOIN THE SDXA

Regular dues – $20 per person.
Second family member – $10.
Under 19 years of age are free.
DUES LINK.
We accept PayPal too.




WANT TO ATTEND A NW HAM RADIO CONVENTION OR SWAP MEET?

Lynn N7CFO keeps the best listing.




MEMBERSHIP ROSTER ACCESS

Active SDXA members can request a copy by email. Contact Secretary Jay WA0WWW. A simple list of members, and links to their QRZ.com sites, is at the Membership Tab.




IARC ETHICS & OPERATING PROCEDURES






DX NEWS LINKS

by Randy W7TJ
1. DX WORLD.NET
2. ANNOUNCED DX OPERATIONS
3. DX SUMMIT
4. I2MQP DX NEWS
5. DXCOFFEE
6. DXER.ORG (Lone Star DX)
7. DXWATCH.COM
8. DAILY DX
9. DXMAPS




CONTESTING LINKS

There are a lot of links to contesting activities in the DX/Contesting drop down menu above the 24-hour clock on the right of this page. But here are a couple of the best.
1. WA7BNM
2. CONTESTING.COM




SDXA MEDIA LIBRARY




INTERNET ENTITY PRONOUNCER

How do you pronounce a DX entity's name? Here is a link to the pronouncing. There is also a audio link to a human voice saying the entity's name correctly. This authority is the 3rd edition Merriam Webster Geographical Dictionary. Covering only legitimate countries, it does not cover non-country ARRL entities.
More Information




HAM RADIO EQUIPMENT REVIEWS

eHAM.net
More Information




HAVE A RECENT AWARD?

Steve K7AWB- ARRL Honor Roll

Lamar WA7LT (right) receives the SDXA Service Award in December, 2016

If you have achieved a recent, important award, let us know so we can publicize it. Photos appreciated.
Send to: stetrekve at arrl.net
Recent News
2017 7QP RESULTS ANNOUNCED


.
ARE YOU READY FOR BOUVET ISLAND?


.
CHUCK KI7DG RECEIVES ARRL


.
KH1 – ORIGINAL BAKER & HOWLAND ISLANDS DXPEDITION CANCELLED


.
MIDWAY AND KURE ISLANDS


.