.

HAVE YOU PAID YOUR 2015 SDXA DUES?
PAY BY MAIL OR PAYPAL
JANUARY MINUTES RELEASED – MINUTES LINK
OUR SDXA VERSION OF THE DX MARATHON HAS STARTED
HERE IS YOUR CHANCE TO WIN A CERTIFICATE!
MORE INFORMATION BELOW AT THE ON AIR SYMBOL.

STEVE K7AWB RECEIVES 5 BAND DXCC AWARD –
PLAQUE INCLUDES THREE ADDITIONAL BANDS
MAKING IT AN 8-BAND EFFORT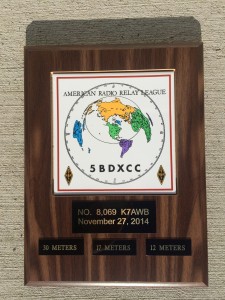 THIS PAST WEEKEND WAS THE 4TH CONTEST OF THE TEN IN THE PNW CHALLENGE CUP COMPETITION BETWEEN THE NORTHWEST'S LEADING DX CLUBS
Your points count towards our club's total!
It was the January ARRL RTTY Roundup.
Send email to Jay WA0WWW, our SDXA Secretary, with your grand total and, if you were a multi-operation, the names and calls of the participants.
GARY K7GS RECEIVES HIGHEST AWARD IN HAM RADIO
To receive this award, you must work and confirm every ARRL recognized entity (mostly populated countries) in the World, all 340 of them. It's not a weekend task, but takes many years as many of the rare entities are not populated by any hams (or people) so one must wait for a DXpedition, a group of hams, to go to that entity and operate from it, a very expensive proposition. For instance, Gary's final (340th) contact was with a French DXpedition to Tromelin Island (FT4TA). Before that, the last DXpedition to that island was in the year 2000. Congratulations to Gary!
SDXA SCORES FOR MEMBERS RELEASED IN FIRST THREE
CONTESTS IN PNW CHALLENGE CUP
(posted December 6, 2014)
The Latest News



PLANNING TO ATTEND A NORTHWEST HAM RADIO CONVENTION OR SWAP MEET?

Lynn N7CFO keeps the best listing.






MEMBERSHIP LIST ACCESS

The listing of active members (their emails, addresses, and phone numbers) has been removed from this site for privacy concerns. Any active member can request a copy by email by contacting our Secretary Jay WA0WWW. There is a simple list of members and links to their QRZ.com sites under Membership located below the mountain logo on the homepage.




2015 SDXA MARATHON HAS STARTED; MANY CATEGORIES TO WIN AN AWARD


The 2015 local contest runs from January 1, 2015 to October 31, 2015. The rules and spreadsheet form are at thisLINK.




JOIN THE SDXA

Regular dues are $20 per person.
A second family member is just $10.
Under 19 years of age are free.
Here's the DUES LINK.
We accept PayPal too.




HAVE YOU WON A RECENT AWARD?

If you have achieved a recent, important award, let me know so we can publicize it. Photos appreciated too.
Send to: stetrekve at hotmail.com



SDXA DX NET
NEW FREQUENCY!
ON 3RD THURSDAYS
ON LOCAL 2-METER FM REPEATER
147.08 MHz

NEXT: FEBRUARY 19 – 7 PM

Randy W7TJ started a DX net to increase our repeater usage to spread the word on where the DX is. The Net is on the 3rd Thursday of each month on the 147.08 MHz repeater (100 Hz PL tone) located on Idaho Mica Peak.




DX NEWS LINKS

Randy W7TJ came up with the idea of listing links to sites where info on DX is found. Here are the first few.
.
1. DX WORLD.NET

2. ANNOUNCED DX OPERATIONS
3. DX SUMMIT
4. I2MQP DX NEWS
5. DXCOFFEE






INTERNET ENTITY PRONOUNCER

What is the correct way of pronouncing a DX entity's name? Do you battle it out at the club meeting with another DXer? Here is a link to the entities. On the site, there is also a audio link to a human voice saying the entity's name correctly. This authority is the 3rd edition Merriam Webster Geographical Dictionary.
More Information



Recent News
2015 SDXA MARATHON


.
2014 ANNUAL AWARDS BANQUET AWARD


.
LAMAR WA7LT 2014 SALMON RUN CONTEST WINNER


.
DX SUMMIT – TRIED THE NEW SITE?


.
MEET YOUR NEW 2015 SDXA OFFICERS


.