NO REGULAR MEETING IN AUGUST
WE ARE HAVING A PICNIC – SUNDAY, AUGUST 28


Previous Summer Picnic in a Spokane park.
We have reservations to use the Shelter at Plante's Ferry Park in the Spokane Valley from 11am to 7pm on Sunday, August 28. Our eating time is 11am-3pm. Its address is 12308 E. Upriver Drive. It's actually a Spokane County Park where trillions of youthful soccer games occur.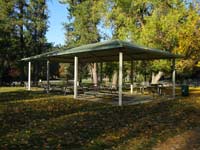 A HISTORIAL LINK to the Plante's Ferry Park.
More Information LINK from the county.
This is a potluck deal where you bring your favorite food to share and the Association will supply plates, cutlery, and drinks.

QSL CARD TAKES 37 YEARS TO ARRIVE
HERE'S THE STORY…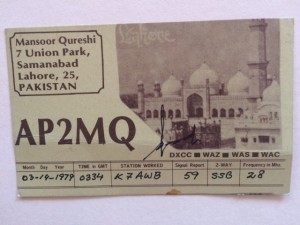 I worked AP2MQ Mansoor Qureshi in Pakistan in March of 1979. I was using a Swan TB4H (4 element tribander) at 85 feet with my Drake 4A line from my Spokane Valley home. Pakistan, being a rare DX for me then (and even now), I sent him a QSL card and probably $2 for return postage, but never heard from him. Many years later in 2002, when I went from manual logging to a computer logging program called WIN-EQF, I started to put my manually logged contacts into the new logging program, but in reverse order from 2002 backwards. I went through all my hand written logs and found that I had never received a card in return from AP2MQ and I needed that entity for my DXCC. There was a Japanese QSL manager listed for him so I sent another card and another $$ to him with no results.
On August 5 of this year (2016), I received a letter addressed from Mansoor Qureshi in Overland Park, KS with two QSL cards for the original contact. Wow! His QRZ.com information still shows he is in Pakistan, so I do not know any more details. Incidentally, the card confirms Pakistan both for SSB and Ten Meters which I need!!! I worked another Pakistan on CW later in life to give me that country for general DXCC purposes.
Have you got a story like this?
Steve K7AWB

-61st PNW DX CONVENTION HELD IN CLACKAMUS
-ORCA DX AND CONTEST CLUB WINS CHALLENGE CUP TROPHY AGAIN
-2017 CONVENTION IN SPOKANE IN AUGUST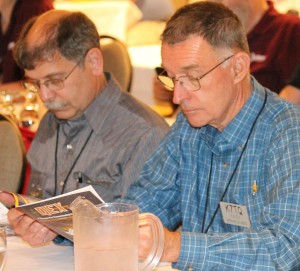 SDXA Secretary Jay WA0WWW and past President Randy K7TQ occupy their time between presentations at the convention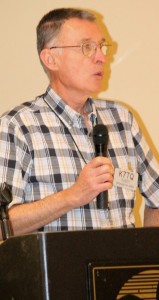 Randy K7TQ, Chairperson for the next PNW DX convention in Spokane, welcomes convention members to attend the Spokane convention in August 2017, the third one that the SDXA will have sponsored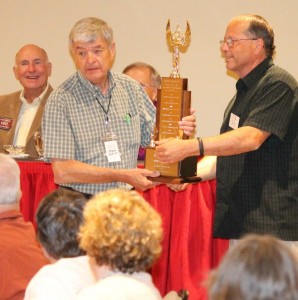 The ORCA DX and Contest Club from British Columbia won the Challenge Cup trophy again. The 10-contest event starts again for the 2016-2017 season with the CQ WW DX RTTY Contest on September 24-25.
How did each of the clubs do in the 2015-2016 season? go to this LINK.
The dates of the 2017 Spokane-based convention are August 4, 5, and 6 at the Red Lion at the Park Hotel in downtown Spokane. The convention website is at 2017 CONVENTION SITE and will be updated as more information is available.
pictures courtesy of Michael Dinkelman N7WA

WHAT'S THIS TRAVELING CHALLENGE CUP
TROPHY AND TEN-CONTEST COMPETITION?
LINK


GIANT WORK PARTY TAKES DOWN
SPOKANE SUPER STATION WA7LT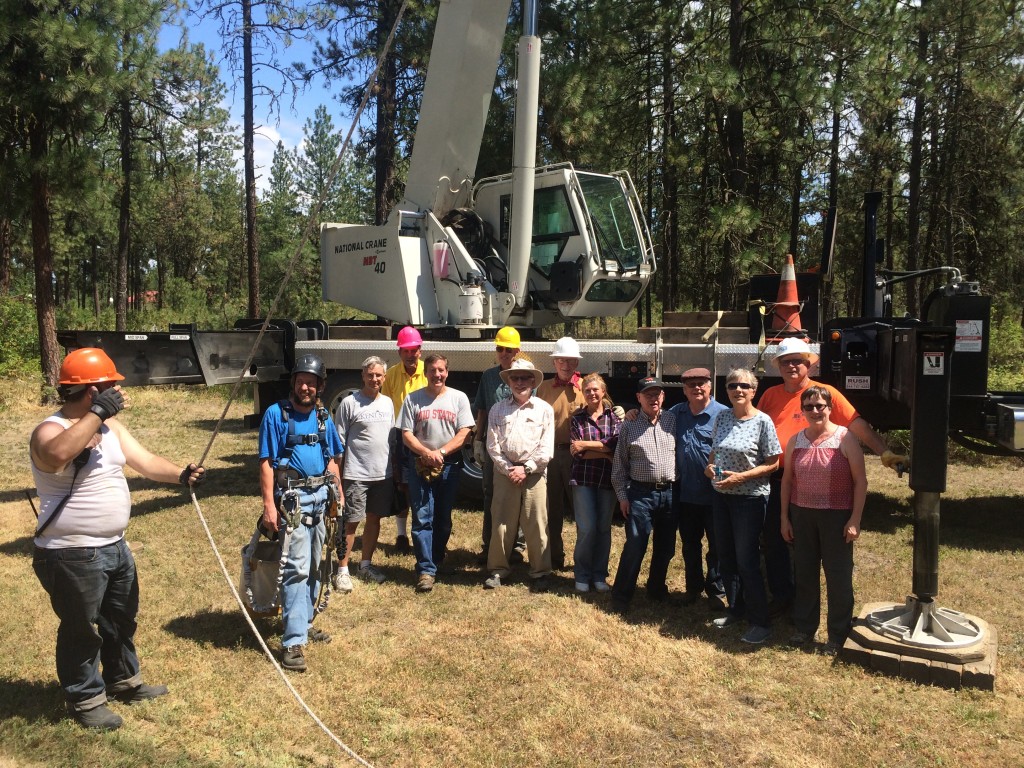 The crew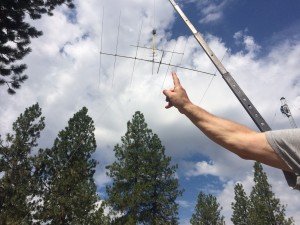 Randy W7TJ points to a flying antenna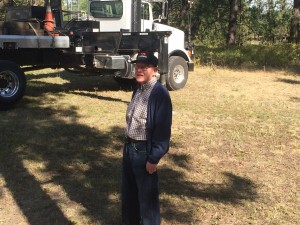 The owner of WA7LT Lamar Ray, one of the original founders of the SDXA and long time DXer
It was an all day event on Tuesday, July 26 at Lamar's QTH located South of the city. The project consisted of three towers (two Rohn 25 and one Rohn 45) and lots of antennas.
Everything including the inside station equipment is for sale as Lamar retires to an assisted living QTH in Spokane Valley. Jim Fenstermaker K9JF is handing the sale and should be contacted if you are interested in any of the items. Reach him at jfenster@pacifier.com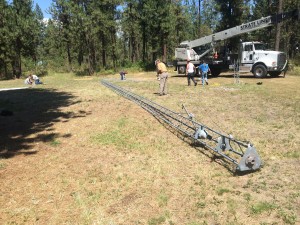 This tower came down as one piece using the 120 foot crane.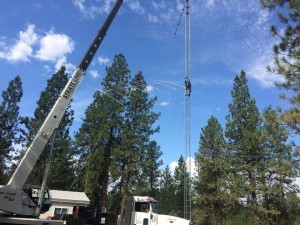 Tower climber Jeremiah Puhek KD7DMP, owner and engineer of JP Telecomm
He spoke at a recent SDXA meeting and welcomes solicitations from hams that need a professional climber to complete their antenna/ tower installations or removals. He can be reached at Jeremiah@jptelecomm.com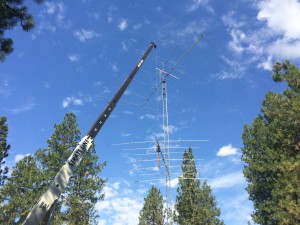 Attention ground crew: stand by. . . !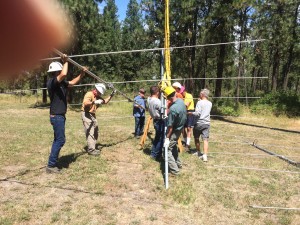 This is NOT a case of one person screwing in the light bulb and the rest holding the ladder! It's a case of the mast preventing the antenna from reaching the ground.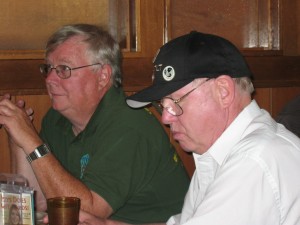 Jim Fenstermaker K9JF and Lamar Ray WA7LT in 2012 at a convention

SPOKANE HAMFEST COMING
SEPTEMBER 24 SATURDAY
UNIVERSITY HIGH SCHOOL IN SPOKANE VALLEY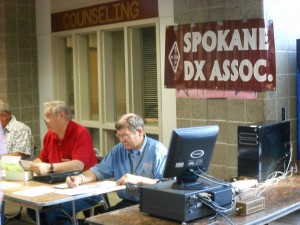 Use the following link to see the tentative schedule and the registration form:
HAMFEST LINK

JULY MEETING MINUTES AVAILABLE
Minutes LINK

CONGRATULATIONS TO GEOFF HOWARD, W0CG/PJ2DX
for his article in the July/August
National Contest Journal (NCJ)
titled
PJ2T's "Year of the Shack" Project – Part 1
It's the first part of a two part article on the upgrading of his contest station PJ2T located on the island of Curacao.
Geoff gave a presentation to the SDXA in April, 2016 on the same subject.
We will look forward for Part 2 soon in NCJ.
Incidentally, NCJ is a publication of the ARRL and is available by subscription. Here is a LINK to the ARRL NCJ page.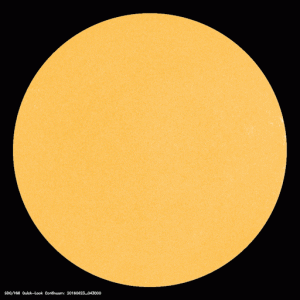 Houston…we have a problem!

DXPEDITION DONATION COMMITTEE AT WORK – AT THE LAST MEETING

These members delegate which rare DXpeditions get donations from the SDXA. Present are: Mike K6MW, Stephen W7VI, Jay WA0WWW, Chris WX7B, and Randy W7TJ.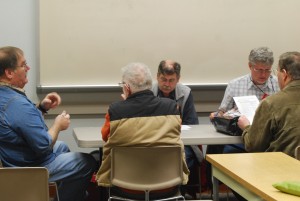 INFORMATION ON THE 2016 SDXA MARATHON

Runs from January 1, 2016 to October 31, 2016
New categories this year
Add up the number of countries (entities) worked this year (340 max) and add that to the number of zones you have worked (40 max) for your score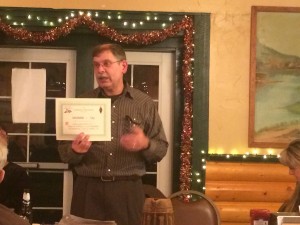 Here are the rules & the form to record your contacts. The form is in .xlsx format which opens with Microsoft's spreadsheet Excel or Corel's Quattro Pro. The form may take a while to load. The rules are in a .pdf format. You can win a certificate!!

2016 RULES LINK
MARATHON SDXA FORM LINK

SOLAR ACTIVITY AND PROPAGATION SECTION

For additional info, try this SOLAR LINK for everything you ever wanted to know about the current Sun at the SolarHam site by VE3EN
Here's a link to SPACEWEATHER.COM, a quick source for the daily activity on the sun
The Latest News



SDXA CALENDAR

2016

Aug 28 Summer Picnic
Sept 8 September meeting
Sept 15 SDXA DX Net
Sept 24 Spokane Hamfest
Oct 6 October meeting
Oct 8-9 PNWVHFS Conference
Oct 20 SDXA DX Net
Oct 31 End of SDXA Marathon
Dec AWARDS BANQUET
2017

Mar 16 SDXA 15th birthday
Aug 4-6 SDXA PNW DX Convention




JOIN THE SDXA

Regular dues – $20 per person.
Second family member – $10.
Under 19 years of age are free.
DUES LINK.
We accept PayPal too.




WANT TO ATTEND A NW HAM RADIO CONVENTION OR SWAP MEET?

Lynn N7CFO keeps the best listing.




MEMBERSHIP ROSTER ACCESS

Active SDXA members can request a copy by email. Contact Secretary Jay WA0WWW. A simple list of members, and links to their QRZ.com sites, is at the Membership Tab.




IARC ETHICS & OPERATING PROCEDURES



SDXA DX NET

Next on September 15 at 7 pm
every 3rd Thursday of the month
NEW FREQUENCY TO BE ANNOUNCED

Randy W7TJ, Net Control




DX NEWS LINKS

by Randy W7TJ

1. DX WORLD.NET
2. ANNOUNCED DX OPERATIONS
3. DX SUMMIT
4. I2MQP DX NEWS
5. DXCOFFEE
6. DXER.ORG
7. DXWATCH.COM
8. DAILY DX




SDXA MEDIA LIBRARY




INTERNET ENTITY PRONOUNCER

How do you pronounce a DX entity's name? Here is a link to the pronouncing. There is also a audio link to a human voice saying the entity's name correctly. This authority is the 3rd edition Merriam Webster Geographical Dictionary.
More Information




HAM RADIO EQUIPMENT REVIEWS

eHAM.net
More Information




HAVE YOU WON A RECENT AWARD?


If you have achieved a recent, important award, let us know so we can publicize it.
Photos appreciated.
Send to: stetrekve at arrl.net
Recent News
2016 PNW DX CONVENTION ON AUGUST 5-7


.
HAPPY BIRTHDAY SPOKANE DX ASSOCIATION


.
2016 7QP RESULTS ANNOUNCED


.
REMEMBERING THE NOVEMBER 17, 2015 WINDSTORM


.
PJ2T – AN EXCELLENT PROGRAM IN APRIL, 2016


.