ARE YOU READY FOR BOUVET ISLAND?
Early 2018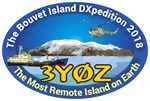 Bouvet Island is the
second most wanted entity
from information on Club Log.
You can prepare for them! There is enough time to consider more, better, and higher antennas. How about some more power? A new Transceiver?
◾Most Wanted Rank: 2
◾CQ zone: 38
◾Continent: AF
◾Primary prefix: 3Y/B
Below info courtesy of bouvetdx.com site
Bouvet lies at 54 degrees, 25 minutes South and 3 degrees, 22 minutes East. It's the product of a volcanic eruption that last occurred in 4,000 B.C. Bouvet is 97% ice covered, and with surrounding rocks and small islands, has an area of 19 square miles, with 18.4 miles of coastline. Its location, ice, rock cliffs, high seas, harsh climate and surrounding pack ice and icebergs isolate it from human presence. Jean-Baptiste Charles Bouvet de Lozier first saw the island in 1739. The island was not seen again until 1808. There was a disputed landing by Benjamin Morrell. But, the first documented landing was by the Norvegia expedition in 1927, which named the island Bouvetoya, and claimed it for Norway.
Sometime between 1955 and 1958, a landslide occurred, creating a rock-strewn, ice-free area on the northwest coast. The area was named Nyroysa, and subsequently became a Norwegian scientific and research site, which was decimated by an earthquake in 2006. A new research facility was erected in 2014.
Bouvet became a Nature Reserve in 1971. Several weather stations have been placed on the island, and a number of Norwegian expeditions have visited the island in the last 50 years. The island has hosted several previous DXpeditions, including:
•LH4C by W4BPD in 1962 – No documented landing.
•3Y3CC and 3Y1VC by LA3CC and LA1VC in 1977.
•3Y5DQ and 3Y1VC 1978-79 by LA5DQ and LA1VC.
•3Y5X by LA2GV, LA1EE, JF1IST, F2CW, and HB9AHL in 1989.
•3Y2GV by LA2GV in 1997.
•3YØC by N4BQW in 2000.
•3YØE by ZS6GCM in 2008.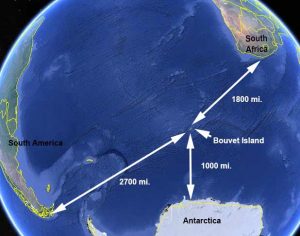 Like most DXpeditions, they are heavily funded by our donations. This may be the most expensive DXpedition ever! Here is a 3Y0Z LINK to their website and further donation information.

MARCH MINUTES RELEASED


LINK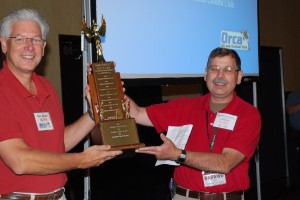 REGISTER NOW FOR THE
2017 DX CONVENTION IN SPOKANE
AUGUST 4-6
Here is a LINK to our convention website.


INFORMATION ON THE LAST TWO CONTESTS
IN THE CURRENT CHALLENGE CUP CYCLE
LINK to Challenge Cup information
CQ WPX CW CONTEST: MAY 27-28, 2017 (9TH OF TEN) – RULES LINK
IARU CONTEST: JULY 8-9, 2017 (10TH OF TEN) – RULES LINK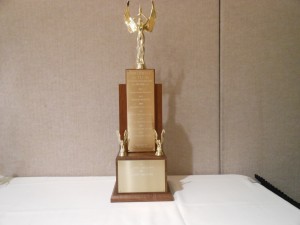 And then there is the awarding of the Challenge Cup Trophy, to the club which has the highest total score from all ten contests, at the annual rotating PNW DX Convention held HERE in Spokane on August 4-6.

RANDY K7TQ ACTIVATES 8 COUNTIES IN
IDAHO QSO PARTY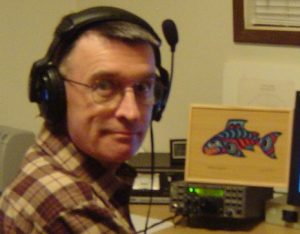 Randy (from Moscow) spent the weekend activating eight Idaho counties on CW for the annual Idaho QSO Party. Here is his story with additional pictures at this
LINK
.
Since randy was going to be mainly on 20 meters, Steve K7AWB decided to see if he could work Randy in all of his activated counties over the two day contest. He did, just barely. The distance between the two stations was too short for F2 propagation so it required Steve to use a mix of headphones, adjusting the rf gain to reduce background noise, turning the DNR way up past usual use, going to 200 Hz filter, using the outboard 20 meter Yaesu preselector filter, and of course using a 20 meter yagi with 6 elements at 90 feet helped.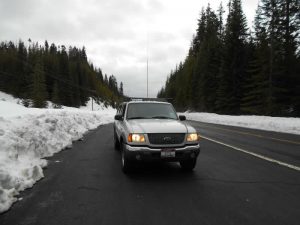 Clearwater County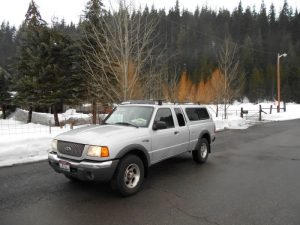 Shoshone County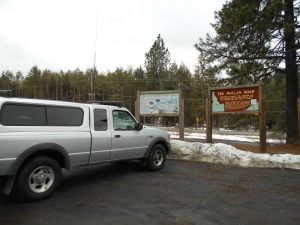 Kootenai County

JAY WS7I RETIRES FROM QSL CHECKING
It seems like forever that Jay Townsend WS7I has been our main QSL card checker for DXCC, VUCC, and WAZ awards. Jay has resigned the card checking from both the ARRL DXCC/VUCC program and CQ Publications WAZ program. He also reports is he is no longer the DXAC (DX Advisory Committee) member from the Northwestern Division for the ARRL.
Our remaining card checker is SDXA member Bruce Wade N7ZA whose contact information is at the bottom of this page. He can check DXCC, VUCC, WAC, and WAS cards for the ARRL awards.
Interested SDXA members for the card checking position should discuss their interests at the next SDXA meeting on April 6.
SDXA thanks Jay for the multitude of card checking, both in Spokane and at other regional ham gatherings.

NEW DX MAP OF THE WORLD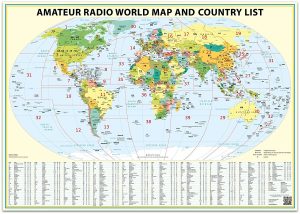 I ran across this ham radio world map for sale on AMAZON. Although I have several ARRL maps on my shack walls, this map looks promising. I always check world maps to see if they are current by seeing if they show the latest country, South Sudan in Africa. On March 9, it was selling for $23.49, being 24″ x 36″ and showing the 40 CQ zones.

CONTACT SPORT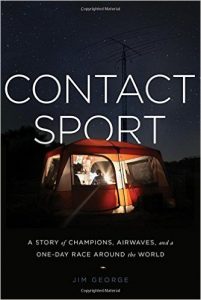 In the woods of Massachusetts, pairs of contestants huddle in tents filled with communications equipment. Their voices soar through the air, riding waves into the atmosphere, as they comb through static and noise for a response from the other side of the world. They're searching for loot–in the form of other voices in the sky. The rarer their contact, the more valuable their treasure.
Joining them in their quest is author J. K. George, an experienced radio operator himself, who guides you through the exciting world of amateur radio competition and the intriguing characters of the 2014 World Radiosport Team Championship. The competitors hail from across the planet–from youthful challengers to veterans with decades of radiosporting experience. You will meet fascinating personalities not only among the teams themselves but also among their "widows"–spouses left behind for the allure of the airwaves.
They battle computer malfunctions, getting lost, and staying at the top of their game for 24 hours in a hot, stuffy tent. The final scores bring surprises, disappointments, even a recount, and decades-long friendships will be stressed in the fight for the crown of amateur radio–the ultimate "contact" sport.
This amateur book about the last WRTC contest in New England is now cheaper then ever. AMAZON has it for $15.44 on March 9, reduced from $22.95 list.

FREE AMATEUR RADIO BOOKS
These two books are free.
1. K1TTT David Robins: BUILDING A SUPER STATION
713 pages – The history of building the K1TTT amateur radio super station in Peru, Ma. 30 Years of building, re-building, changing and improving plus lots of visitors and events. You purchase it at $0.00 which means free!
Free PDF download to your computer at this K1TTT LINK.
2. G3TRP Trevor Preece: THE THE VHF/UHF DX BOOK, 2017 Replica Edition
The VHF/UHF DX Book was written in the early to mid-1990s by a team of experienced VHF/UHF DXers and equipment developers, in an effort to pass on our knowledge and stimulate further developments. Looking back, that plan worked very well… for a time. But as we entered the digital age, information of lasting value became trapped on the printed pages and was lost to the next generation of VHF/UHF DXers. To keep that information alive, this digital replica of the Second Printing dated 1995 has been released by kind permission of the copyright owner TRPublishing and its proprietor Trevor Preece G3TRP.
Free PDF download to your computer at this G3TRP LINK.

SOLAR ACTIVITY AND PROPAGATION SECTION

This feature is always at the bottom of the web page so I thought I would bring it up top to reintroduce it back to some of you.
For additional info, try this SOLAR LINK for everything you ever wanted to know about the current Sun at the SolarHam site by VE3EN
Here's a link to SPACEWEATHER.COM, a quick source for the daily activity on the sun
What is this?

THE SDXA LIBRARY
check out a book or video from
Jay WA0WWW the Secretary
LIBRARY LINK


IDAHO STATE HAM CONVENTION
APRIL 21-23, 2017
WYNDHAM GARDEN, BOISE AIRPORT

A link to their website is available in the Sidebar over to the right side
The Latest News



SDXA CALENDAR

2017

Apr 8 Yakima Hamfest
Apr 21 Idaho Convention
May 27-28 CQ WPX CW (9/10)
June 2-4 Seaside
July 8-9 IARU (10/10)
Aug 4-6 SDXA PNW DX Convention
Aug 21 Total Sun Eclipse
Aug 26 SDXA Picnic – Shadle Pk
Sept 23 Spokane Hamfest
Dec 7 SDXA Awards Banquet




JOIN THE SDXA

Regular dues – $20 per person.
Second family member – $10.
Under 19 years of age are free.
DUES LINK.
We accept PayPal too.




WANT TO ATTEND A NW HAM RADIO CONVENTION OR SWAP MEET?

Lynn N7CFO keeps the best listing.




MEMBERSHIP ROSTER ACCESS

Active SDXA members can request a copy by email. Contact Secretary Jay WA0WWW. A simple list of members, and links to their QRZ.com sites, is at the Membership Tab.




IARC ETHICS & OPERATING PROCEDURES






DX NEWS LINKS

by Randy W7TJ

1. DX WORLD.NET
2. ANNOUNCED DX OPERATIONS
3. DX SUMMIT
4. I2MQP DX NEWS
5. DXCOFFEE
6. DXER.ORG (Lone Star DX)
7. DXWATCH.COM
8. DAILY DX
9. DXMAPS




CONTESTING LINKS

There are a lot of links to contesting activities in the DX/Contesting drop down menu above the 24-hour clock on the right of this page. But here are a couple of the best.
1. WA7BNM
2. CONTESTING.COM




SDXA MEDIA LIBRARY




INTERNET ENTITY PRONOUNCER

How do you pronounce a DX entity's name? Here is a link to the pronouncing. There is also a audio link to a human voice saying the entity's name correctly. This authority is the 3rd edition Merriam Webster Geographical Dictionary. Covering only legitimate countries, it does not cover non-country ARRL entities.
More Information




HAM RADIO EQUIPMENT REVIEWS

eHAM.net
More Information




HAVE A RECENT AWARD?

Steve K7AWB- ARRL Honor Roll
Marybeth AE7GT – WAS certificate

If you have achieved a recent, important award, let us know so we can publicize it. Photos appreciated.
Send to: stetrekve at arrl.net
Recent News
SDXA – HAPPY 15TH BIRTHDAY


.
STATISTICS ON 13 ACTIVE YEARS OF FIELD DAY


.
LESSONS MY FATHER TAUGHT ME


.
WHICH WOULD YOU PREFER?


.
MEL N7GCO & HIS 90 FOOT HIGH DB18


.