.

LAMAR WA7LT IS WINNER OF 2014
SDXA-SPONSORED SALMON RUN CONTEST PLAQUE

A look back at Lamar's contesting career
The plaque is given to the highest score in the following category:
Low Power
Single Operator
operate from ARRL EWA Section
Mixed Mode
Lamar made 160,630 points from 636 QSOs and 102 multipliers operating from his home QTH. He also was high score for Spokane County.
This is the 12th year the SDXA has sponsored this plaque. Two other SDXA members have won it: Gary K7OX three times and Wilse WX7P (SK) once.
Other SDXA members in the contest were:
Chuck KI7DG 217,006 points from 1051 QSOs and 103 multipliers. SO, High Power, SSB Mode category in Okanogan County (winner of Okanogan County and Washington state in category)
Randy K7TQ 95,210 points from 451 QSOs and 70 multipliers. Mobile CW Mode category with Jay WA0WWW
Gary AD7XG 15,316 points from 143 QSOs and 44 multipliers. SO, Low Power, Mixed Mode in Lincoln County (winner of Lincoln County). Clean sweep of all 39 Washington Counties
Mark KB7HDX 86,684 points from 513 QSOs and 84 multipliers. SO, Low Power, SSB Mode category in Yakima County (winner of Yakima County)
Gary K7GS 48,380 points from 228 QSOs and 70 multipliers. SO, Low Power, CW Mode in Spokane County
Chris WX7B 19,038 points from 143 QSLs and 58 multipliers. SO, Low Power, Mixed Mode in Spokane County
SDXA took third (555,580 points) in the total club score behind Radio Club of Redmond (1,214,235 points) and Western Washington DX Club (1,438,250 points – not eligible for awards)
here is a LINK to all the Salmon Run scores from the Western Washington DX Club website.
GEOFF W0CG/PJ2DX AND FRIENDS AT PJ2T
SDXA member Geoff W0CG/PJ2DX provides this picture of the crew right after the big contest this last weekend. Apparent World #3 Multi/Single, High Power, as PJ2T. 9,201 QSOs and 19, 741,320 points claimed score. In the picture, Left to right: Heiko (DK3DM), Uli (DL8OBQ), Rich (W3ACO), Kei (JJ1RJR), & Geoff (PJ2DX).
LAMAR WA7LT TAKES 3RD IN USA
IN 2014 CQ WPX SSB CONTEST
IN UNASSISTED, 15 METERS, HIGH POWER,
SINGLE OPERATOR CATEGORY
USA Single Op 21 MHz High Power
KU2M……………………………7,902,062
WA3A……………………………1,910,706
WA7LT ………………………….1,841,346
DECEMBER AWARDS BANQUET ANNOUNCED

Longhorn BBQ in Airway Heights
Thursday, December 4
Eyeball QSO hour starts at 6 pm
Dinner at 7 pm
$25 per person including tips
Send to SDXA mail address at top of this page or use this PAYPAL LINK
(This banquet replaces the regular December meeting)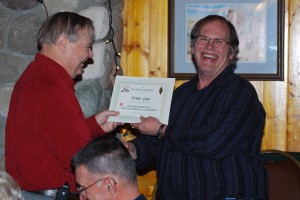 The 2014 Annual Awards Banquet will be December 4th this year, again at the Longhorn BBQ in Airway Heights. This is a great opportunity to meet new friends, rekindle old friendships, brag about your latest DX catch, and just have fun! Eyeball QSO's / "refreshments" start at 6PM, with the dinner starting at 7PM.
WHAT WOULD OUR MONTHLY MEETINGS BE LIKE
WITHOUT DAVE & MARYBETH?


OCTOBER 2 MEETING MINUTES AVAILABLE
MINUTES LINK

JOIN THE SDXA
Regular dues are $20 per person; A second family member is just $10
Under 19 years of age, its free
Here's the link to the details: DUES LINK and we accept PayPal too!
The Latest News



PLANNING TO ATTEND A NORTHWEST HAM RADIO CONVENTION, SWAP MEET, OR OFFICIAL GATHERING?

Lynn N7CFO keeps the best listing.






MEMBERSHIP LIST ACCESS

The listing of active members, with their emails, addresses, and phone numbers, has been withdrawn from this site for privacy concerns. Any active member can request a copy for themselves by email by contacting our Secretary Jay WA0WWW. We still have a list of members and a link to their QRZ.com sites under Membership located below the mountain logo on the homepage.




2014 SDXA MARATHON STARTED ON JANUARY 1, 2014

The 2014 local contest runs from January 1, 2014 to October 31. This is YOUR year to enter and win your category! Results on the official spreadsheet are due to Jay (SDXA secretary) by 23.59Z on Nov 14.




JULY MEETING MINUTES POSTED




HAVE YOU WON A RECENT AWARD?

If you have achieved a recent, important award, let me know so we can publicize it. Photos appreciated too.
Send to: stetrekve at hotmail.com



SDXA DX NET
ON 3RD THURSDAYS
ON OUR 2-METER FM REPEATER

NEXT: NOVEMBER 20 – 7 PM

Randy W7TJ started a DX net to increase our repeater usage and spread the word on where the DX is. It is on the 3rd Thursday of each month on our 147.16 MHz repeater (tone specifications are on the right side of this page).




DX NEWS LINKS

Randy W7TJ came up with the idea of listing links to sites where info on DX is found. Here are the first few.
1. DX WORLD.NET

2. ANNOUNCED DX OPERATIONS
3. DX SUMMIT BAND SPOTS
4. I2MQP DX NEWS




MEMBERSHIP CHAIRPERSON WANTED

Main duties: solicit new members, entice old members to rejoin, send out email notices at the beginning of the year for renewals, and contact late paying members who have not paid. Contact President Chris Pritchard WX7B.




INTERNET ENTITY PRONOUNCER

What is the correct way of pronouncing a DX entity's name? Do you battle it out at the club meeting with another DXer who differs from you?
Here is a link to the entities in alphabetical order. On the site, there is also a audio link to a human voice saying the entity's name correctly. This authority is the 3rd edition Merriam Webster Geographical Dictionary.
More Information



Recent News
2014 ANNUAL SDXA PICNIC A SUCCESS


.
GARY AD7XG INSTALLS FORCE 12 5BA 5-BANDER


.
CHUCK KI7DG RECEIVES CERTIFICATE OF RECOGNITION


.
2014 SALMON RUN PHOTOS – Randy K7TQ & Jay WA0WWW


.
ANTENNA ACTIVITY AT THE QTH OF K7AWB


.