SDXA DX NET POSTPONED IN HONOR OF
DAN N5AR'S 90TH BIRTHDAY DINNER –
NET MOVED TO 3825 khZ

The regular third Thursday-of-the-month DX net for October 15 is postponed until a week later –
October 22
at 7 pm because of a conflict for Dan's birthday.
In November, it will return to the regular third Thursday – November 19 at 7 pm.
And because of the mysterious QRM on the 2-meter 147.08 mHZ Idaho repeater, the net moves to 75 meters, but we will try to use the repeater for quick DX spots between members. The SDXA DX net on 75 meters should enable members, whose QTHs are further out, to be able to check in. We will test the frequency of 3825 KHz and move up or down as necessary depending on QRM. So join us on 3825 KHz October 22 at 7 pm for the net.

LANCE W7GJ TO RECEIVE ARRL FRED FISH AWARD

(Lance, from Frenchtown, MT, was one of our SDXA-sponsored speakers at our 2013 PNW DX Convention in Spokane Valley talking about his 6-meter Clipperton DXpedition – TX5K).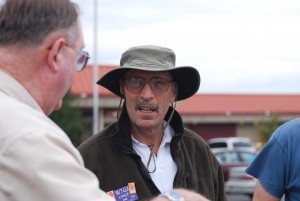 .
What is the Fred Fish award?
Fred Fish W5FF(SK) was the first ham to work all 488 maidenhead 6-meter grids in the continental USA. The new Fred Fish Award was given to him posthumously in 2008 as their newest ARRL award. There are only six amateurs that have gotten the award. Lance should be #7. Working all 488 grids is tough; some grids are ham-less, at least on 6 meters. Some are swamps; some are accessed only by boat.
Here is the FRED FISH LINK to the ARRL site. Incidentally, SDXA member Mark W7MEM has 480 confirmed, only 8 remaining. Steve K7AWB has 412 of the 488.
Lance recently announced his working the final 488th grid (FN67 in Maine):
"What a great birthday present I had tonight! At 0204Z September 28, 2015 – just as
the eclipsed full moon rose over the mountain here – I completed with KB3SII on 6m
EME for my grid number 488 for the FFMA award 😉 KB3SII and K1WHS are currently on EME on 50.190 from FN67aa, and also making other contacts on EME. 6m Degradation is -0.9 and Kp is 1.7. 6m EME cndx are UNBELIEVABLE!"
Lance initiates many 6-meter DXpeditions using EME for his contacts. Here is a DXPEDITION LINK to his latest in Micronesia in August, 2015. This article has beautiful pictures and a great description of his trip including the flames out of the bottom of his amplifier. Lance maintains the MagicEME@googlegroups.com reflector too.
In early December 1983, operating from Montana as WA1JXN, Lance was the first radio amateur to communicate with the Space Shuttle. Astronaut Dr. Owen Garriot, W5LFL. He was contacted using Lance's 2m EME array of 12 yagis as STS-9 passed down along the West Coast of the USA. Lance has ARRL DXCC #11 for 2-meters as well as a 6-meter DXCC.
His great technical website is at this W7GJ LINK.

REMEMBER THE GREAT PRESENTATIONS AT OUR TWO SDXA-SPONSORED PNW DX CONVENTIONS?
(Chaired by Gary K7OX and Randy K7TQ)
2009
Sean Kutzko, KX9X, Playing the Game: DXing and Contesting at the ARRL
Paul Peters, VE7BZ, Crimp Coax Connectors: A Simple Approach to Consistency
Dennis Motschenbacher, K7BV, San Andres 2008-2009 5J0M/5J0BV
Dick Frey, K4XU, Fun in the 7th Area QSO Party
Carl Luetzelschwab, K9LA, Cycle 24 Developments (or not)
Wilse Morgan, WX7P, Building a 40 m 4 square
Ward Silver, N0AX, I Can see UA0 From Here and So You Think You Have Enough Towers: W1AW/KL7 & W0AIH
Mike Mraz, N6MZ, Desecheo Island, K5D
Geoff Howard, PJ2DX, PJ2T Super Station
2013
Randy Crews, W7TJ, Preparing for the Propagation Winter
Lance Collister, W7GJ, 6 m Clipperton Island from TX5K
Geoff Howard, W0CG/PJ2DX, Inching Toward a Million Qs at PJ2T
Jim Fenstermaker, K9JF, The DXer's Favorite Wallpaper
Elvin Miura, JA3CZY, The State of Amateur Radio in Japan
Dave Patton, NN1N, The Ham and His Callsign
Bob Locher, W9NKI, Digging out the Rare DX
Dennis Motschenbacher, K7BV, Rebuilding RAST and Operating from Thailand
Ward Silver, N0AX, CQ DX From Arecibo
2017 Convention Chair Randy K7TQ is looking for volunteers for the next SDXA-sponsored convention in August, 2017. It is not too early to sign up as a volunteer. Contact Randy at his email address: rbfoltz at gmail.com

OCTOBER 2015 MINUTES AT THIS LINK


YEARNING FOR ANOTHER HAM CONVENTION?
Want to get away from the housework, yard work, and lack of propagation for a weekend?

Its called a Conference, rather than a Hamfest or Convention, but it is ham radio and it is only 4+ hours away in Issaquah, WA. The Conference location rotates, like our PNW DX conventions, between cities such as Bend, Moses Lake, Portland, and Seattle.
IT IS THE PACIFIC NORTHWEST VHF SOCIETY (PNWVHFS) CONFERENCE HELD ON OCTOBER 10 IN ISSAQUAH.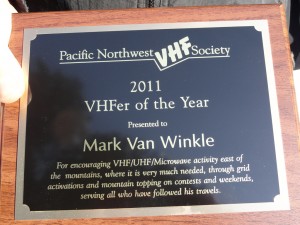 SDXA member Mark K7HPT received this award from the PNWVHFS in 2011.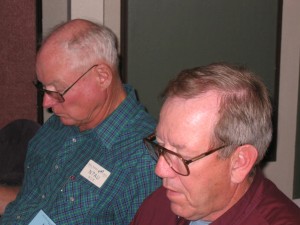 Bob N7AU and Bob K7TM (both SDXA members) at a recent PNWVHFS conference.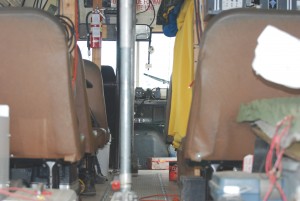 One way to get your antenna above the rig at a recent PNWVHFS conference
Here is a LINK to the conference

RESERVE THIS DATE
DECEMBER 3
SDXA ANNUAL AWARDS BANQUET
LONGHORN BBQ IN AIRWAY HEIGHTS
6 pm eyeball QSOs; 7 pm dinner

Paypal will be up in a few days.
Dinner price will be $27 which includes your dinner, drink, and tip.
Meat selections this year are BEEF, RIBS, & HAM.
To pay by mail, use the SDXA address at the top of this page.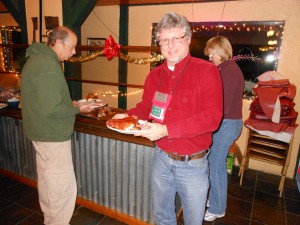 President Chris WX7B at a previous banquet. First in the buffet line means you are first for seconds too!

2015-2016 PNW CHALLENGE CUP COMPETITION
HAS STARTED

next up: October 24-25, 2015: CQ WW DX SSB LINK

This is the competition between the leading DX clubs in ten particular contests throughout the year. There is an article on the bottom of this page on the recent win of the ORCA folks from British Columbia. SDXA, at the annual Winter Awards Banquet, gives out a nice certificate for any member who enters all ten contests. Your score does not have to be huge to enter these contests and list your results. And the member who gets the highest total score from the contests they enter gets a special certificate!

The clubs participating are:

– BC DX Club LINK
– Idaho DX Association LINK
– Orca DXCC Club (new) LINK
– Spokane DX Association LINK
– Western Washington DX Club LINK
– Willamette Valley DX Club LINK

What you do is to enter as some or all of these contests and submit your scores (besides to the contest sponsor such as CQ Magazine or the ARRL) to our SDXA Secretary Jay WA0WWW who keepts a running tally for each SDXA entrant. At irregular intervals, we will publish the SDXA member sscores so far in the contest. And hopefully we can get a tally of how each club is doing against each other.

CONTEST LISTING IN DATE ORDER

1. done:September 26-27, 2015: CQ WW DX RTTY LINK
2. next: October 24-25, 2015: CQ WW DX SSB LINK
3. November 28-29, 2015:CQ WW DX CW LINK
4. January 2-3, 2016: ARRL RTTY RU LINK
5. February 13-14, 2016: CQ WPX RTTY LINK
6. February 20-21, 2016: : ARRL DX CW LINK
7. March 5-6, 2016: ARRL DX SSB LINK
8. March 26-27, 2016:CQ WPX SSB LINK
9. May 28-29, 2016: CQ WPX CW LINK
10. July 9-10, 2016: IARU HF CHAMPIONSHIP LINK

Some of these links go to last year's rules as the sponsors have not kept us up with the future contest rules. As these are made available, the Links will be valid.

HOW DID THE SDXA START?
AN ARTICLE ON OUR BEGINNINGS
WRITTEN BY LAMAR WA7LT

ARTICLE LINK

WASHINGTON STATE QSO PARTY – THE SALMON RUN
SEPTEMBER 19-20

Well, this years Salmon Run is over. I thought I would review the local previous winners of our SDXA-sponsored plaque. There are also bits of smoked salmon given as prizes too from the WWDXC guys. Thanks to the 2015 Washington Salmon Run Committee: K7EDX, N7UK, K7SR, K7DSE, N7WA, K7BTW, and K7WA – those outstanding members of the WWDXC West of us.
Here are the winners of the SDXA-sponsored plaque since the beginning: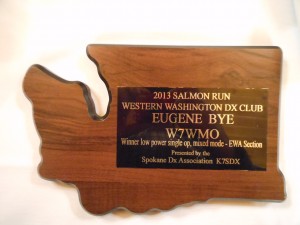 2003-2004-2007-2010-2013 W7WMO Gene Bye from Ephrata


2005-2006-2009 K7OX Gary Elliott from Spokane County (SDXA member)


2008 WX7P Wilse Morgan (SK) from Rice (SDXA member)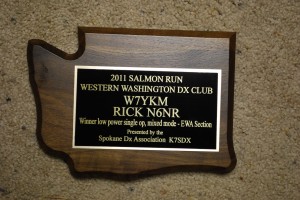 2011 N6NR Rick Olsen from Tieton, WA, operating from station W7YKM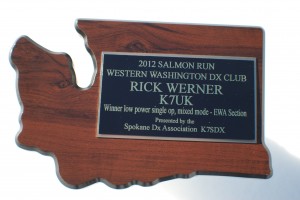 2012 K7UK Rick Werner from Walla Walla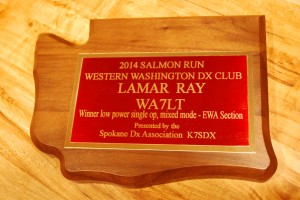 2014 WA7LT Lamar Ray from Spokane County (SDXA member)

NEW SDXA TRI-FOLD BROCHURE (2 pages) AT THIS LINK


WHAT IS THE DEAL ON THE ARTICLES TAB AT THE TOP OF THE PAGE?

This is the location for short articles written by members on topics of interest to other members. Have you looked at the titles lately? Click on the tab and enjoy. Could you contribute an article to SDXA?
The Latest News



SDXA CALENDAR

2015

Oct 10-11 PNWVHFS Conf
Oct 22 3725 KHz SDXA DX net
Oct 24-25 CQ WW SSB (2/10)
Nov 5 SDXA Nov meeting
Nov 19 3725 KHz SDXA DX net
Nov 28-29 CQ WW CW (3/10)
Dec 3 SDXA Awards Banquet

2016
Jan 7 SDXA Jan meeting
Feb 3 the day the music died
Apr 11 SDXA 14th birthday
May 7-8 7QP Contest
Aug 5-7 PNW DX Convention

2017
Aug SDXA PNW DX Convention




JOIN THE SDXA


Regular dues – $20 per person.
Second family member – $10.
Under 19 years of age are free.
DUES LINK.
We accept PayPal too.



WANT TO ATTEND A NW HAM RADIO CONVENTION OR SWAP MEET?

Lynn N7CFO keeps the best listing.




2015 SDXA MARATHON; MANY CATEGORIES TO WIN AN AWARD

The 2015 local contest runs from January 1, 2015 to October 31, 2015. Rules and spreadsheet form are at:LINK.




HAVE YOU WON A RECENT AWARD?

If you have achieved a recent, important award, let us know so we can publicize it.
Photos appreciated.
Send to: stetrekve at hotmail.com



SDXA DX NET

Next on October 22 at 7 pm
(date exception this month only)
every 3rd Thursday of the month
3825 KHz on 75 meters now

Randy W7TJ
Net Control




DX NEWS LINKS

by Randy W7TJ
.
1. DX WORLD.NET

2. ANNOUNCED DX OPERATIONS
3. DX SUMMIT
4. I2MQP DX NEWS
5. DXCOFFEE




SDXA MEDIA LIBRARY




INTERNET ENTITY PRONOUNCER

How do you pronounce a DX entity's name? Do you battle it out at the club meeting with another DXer? Here is a link to the pronouncing. There is also a audio link to a human voice saying the entity's name correctly. This authority is the 3rd edition Merriam Webster Geographical Dictionary.
More Information




MEMBERSHIP ROSTER ACCESS

Active SDXA members can request a copy by email. Contact Secretary Jay WA0WWW. A simple list of members, and links to their QRZ.com sites, is at the Membership Tab.
Recent News
ORCA DX CLUB IN CANADA WINS 2014-2015 PNW CHALLENGE CUP COMPETITION


.
FROM OUR PRESIDENT


.
K7TQ & WA0WWW ROVER IN 2015 SALMON RUN


.
ARTICLE ON LOGGING SOFTWARE BY CHUCK KI7DG


.
WELCOME NEW MEMBER GORDON OLSSON AA6TQ


.