.
CQ WORLDWIDE CW CONTEST STARTS ON BLACK FRIDAY AT 4 PM, NOVEMBER 28
ITS BLACK FRIDAY, BUT THE THIRD CONTEST IN THE TEN-CONTEST PNW CHALLENGE CUP STARTS TODAY.
Our SDXA Secretary Jay WA0WWW says: for the latest PNW Challenge Trophy Cup rules and more information on the trophy competition, they are on our SDXA web site at this SDXA LINK.
Reporting deadline: ALL entries must be sent WITHIN FIVE (5) DAYS after the end of the contest: no later than 2359 UTC December 5, 2014 for CW. Resubmitting an entry after the deadline will result in it being a late log. Send CW logs to cw@cqww.com. Include only the entry call sign in the "Subject:" line. Remember that your claimed scores get to me (WA0WWW) wa0www @hotmail.com for the Challenge Cup, e.g., if you post to SDXA Google Group, I will pick it up there.
New: we no longer need to send our CQ scores to W3AS, Doug. CQ is now like ARRL and have our roster and create the club score automatically. Thanks much Doug, for your many years of submitting club scores to CQ. I only need your claimed score (and op calls in a multi-op), just the number. Please don't have the claimed score only in an attached file. If you want to do a quick copy paste of the band/mode/points/multiplier table into the email that would be fine; it is fun to see how everyone did on different bands.
have fun and good DX.
wa0www Jay W, SDXA secretary
DX SUMMIT – HAVE YOU TRIED THEIR NEW SITE?
Their new spotting site includes great filtering and even VOACAP predictions. There is a 8 page tutorial available from the selections at the top of their home page. Here is the
DX SUMMIT LINK
.
HAVE YOU PAID YOUR 2015 SDXA DUES?
PAY BY MAIL, PAYPAL, OR EVEN AT THE BANQUET
ON DECEMBER 4
DECEMBER AWARDS BANQUET
DECEMBER 4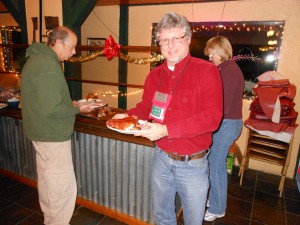 Seconds Chris?
.
Longhorn BBQ in Airway Heights
Thursday, December 4
Eyeball QSO hour starts at 6 pm
Dinner at 7 pm
$25 per person including tips
Send to SDXA mail address at top of this page or use this PAYPAL LINK
(This banquet replaces the regular December meeting)
PROGRAM: the BS7H Scarborough Reef 2007 DXpedition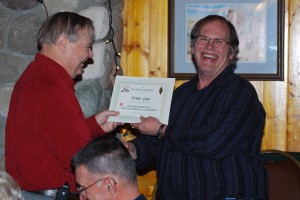 The 2014 Annual Awards Banquet will be December 4th this year, again at the Longhorn BBQ in Airway Heights. This is a great opportunity to meet new friends, rekindle old friendships, brag about your latest DX catch, and just have fun! Eyeball QSO's / "refreshments" start at 6PM, with the dinner starting at 7PM.
SDXA SCORES FOR MEMBERS RELEASED IN FIRST TWO
CONTESTS IN PNW CHALLENGE CUP
MOVE TO NEW REPEATER ON NOVEMBER 20 SUCCESSFUL FOR SDXA DX NET
NINE CHECK-INS INCLUDING SANDPOINT, DAVENPORT, & EPHRATA
147.08 MHz …. 100 Hz tone …. +600 Hz offset

NOVEMBER MEETING MINUTES RELEASED

MINUTES LINK
2014 SDXA MARATHON HAS ENDED

The 2014 local contest ran from January 1, 2014 to October 31. Results on the official spreadsheet were due to Jay WA0WWW (SDXA secretary) by 23.59Z on Nov 14. There is a link to the rules below in THE LATEST NEWS section. Winners to be awarded at the December Awards Banquet.
The Latest News



PLANNING TO ATTEND A NORTHWEST HAM RADIO CONVENTION OR SWAP MEET?

Lynn N7CFO keeps the best listing.




SOLAR DISPLAY HAS CHANGED

The display on the right side which displayed HF propagation parameters such as the A and K indices is no longer supported. Its author Julian Moss G4ILO recently died from brain cancer. So I have been experimenting with another from Paul Herrman N0NBH; it is above this message. Comments welcome.




MEMBERSHIP LIST ACCESS

The listing of active members (their emails, addresses, and phone numbers) has been removed from this site for privacy concerns. Any active member can request a copy by email by contacting our Secretary Jay WA0WWW. We still have a list of members and a link to their QRZ.com sites under Membership located below the mountain logo on the homepage.




2014 SDXA MARATHON ENDED

The 2014 local contest ran from January 1, 2014 to October 31. Results on the official spreadsheet were due to Jay (SDXA secretary) by 23.59Z on Nov 14. The winners will be announced at the December Awards Banquet.




JOIN THE SDXA

Regular dues are $20 per person.
A second family member is just $10.
Under 19 years of age are free.
Here's the DUES LINK.
We accept PayPal too.




HAVE YOU WON A RECENT AWARD?

If you have achieved a recent, important award, let me know so we can publicize it. Photos appreciated too.
Send to: stetrekve at hotmail.com



SDXA DX NET CHANGE
NEW FREQUENCY!
ON 3RD THURSDAYS
ON A LOCAL 2-METER FM REPEATER

NEXT: DECEMBER 18 – 7 PM

Randy W7TJ started a DX net to increase our repeater usage and spread the word on where the DX is. It is on the 3rd Thursday of each month on the 147.08 MHz repeater (100 Hz PL tone)




DX NEWS LINKS

Randy W7TJ came up with the idea of listing links to sites where info on DX is found. Here are the first few.
.
1. DX WORLD.NET




MEMBERSHIP CHAIRPERSON WANTED

Main duties: solicit new members, entice old members to rejoin, email notices at the beginning of the year for renewals, and contact members who have not paid yet. Contact President Chris Pritchard WX7B.




INTERNET ENTITY PRONOUNCER

What is the correct way of pronouncing a DX entity's name? Do you battle it out at the club meeting with another DXer? Here is a link to the entities. On the site, there is also a audio link to a human voice saying the entity's name correctly. This authority is the 3rd edition Merriam Webster Geographical Dictionary.
More Information



Recent News
MEET YOUR NEW 2015 SDXA OFFICERS


.
MARYBETH AE7GT RECEIVES HER WAS & DXCC CERTIFICATES – CONGRATULATIONS ON THE LONG JOURNEY-


.
STEVE K7AWB FIRST WINNER OF PNWVHFS APPLE CERTIFICATE


.
AWARDS BY JOE KF7PBM


.
LAMAR WA7LT IS WINNER OF 2014 SDXA-SPONSORED SALMON RUN CONTEST PLAQUE


.