FIRST IT WAS ICE STORM 96; NOW ITS WIND STORM 15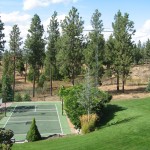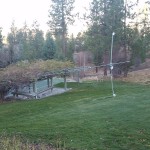 The SteppIR antenna and Rohn 25 tower became a casualties of Wind Storm 15 Tuesday night, November 17, at the QTH of Mike N7KR. Anyone else have damage photos?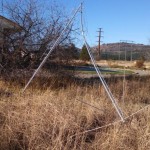 A Gap Voyager bit the dust at the QTH of our SDXA Secretery Jay WA0WWW. He had 2 up & phased for 80m, 40m and 160m. One survived. it was about a 60mph that took it; it was down wind from the house and Jay says that the winds were accelerated and circling once over the house that twisted it and brought it down.

RESERVE THIS DATE – DECEMBER 3
SDXA ANNUAL AWARDS BANQUET
LONGHORN BBQ IN AIRWAY HEIGHTS
6 pm eyeball QSOs; 7 pm dinner

Paypal is now available to pay for the banquet:

To pay for two or more people, after making your first selection for one person, chose "continue shopping" and enter for the next person, etc. Make sure you give us your names and calls where it says: "add special instructions to the seller".

Dinner price will be $27 which includes your dinner, drink, and tip.
Meat selections this year are BEEF, RIBS, & HAM.
To pay by mail, use the SDXA address at the top of this page.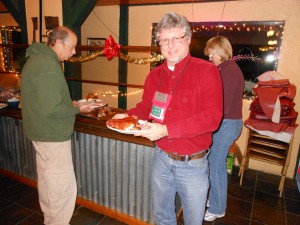 President Chris WX7B at a previous banquet. First in the buffet line means you are first for seconds too!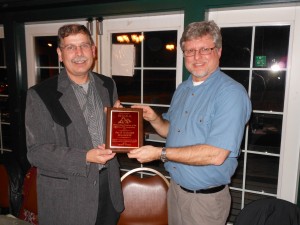 At the 2014 banquet, Jay WA0WWW receives an achievement plaque from President Chris WX7B.

NEW ARTICLE ON SDXA LOGGING PROGRAMS
BY CHUCK KI7DG


SDXA-SPONSORED SALMON RUN PLAQUE
BEING SENT TO 2015 WINNER GENE BYE W7WMO
IN EPHRATA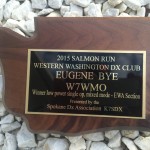 SDXA FIELD DAY SUMMARY

This is a summary of the history of SDXA's Field Day activities since the first one in 2003. If you notice any corrections or omissions, let Steve K7AWB know. I thought we joined Idaho KARS for two years of Field Days, but I find only proof for one year so far.

TIME TO SEND IN YOUR 2016 SDXA DUES

Although dues are due by the end of the year, for the next year, it becomes a hassle to have them trickle in all the way into March.
So let's try something new. Send your dues in by mail early (to the SDXA address at the top of this page, or pay by PayPal by going to our SDXA Membership Paypal Option page under the tab at the top of this page called MEMBERSHIP. You could also pay your dues at the Awards Banquet.
DUES ARE $20 FOR THE YEAR, A SECOND MEMBER OF THE FAMILY IS AN ADDITIONAL $10, AND MEMBERS UNDER THE AGE OF 19 ARE FREE.

NOVEMBER 2015 MINUTES LINK

Randy W7TJ gave a presentation on the upcoming Heard Island DXpedition at the November SDXA meeting. It is available at this
HEARD LINK
. It is a 25 page Microsoft PowerPoint file.

JOIN THE SPOKANE DX ASSOCIATION
NEW MEMBERS GET THEIR MEMBERSHIP BADGE FREE!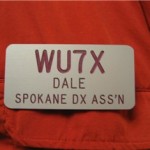 example of name badge

2016 SDXA ELECTIONS HELD

PRESIDENT: Chris Pritchard WX7B was reelected
VICE-PRESIDENT: Randy Crews W7TJ was elected as new
TREASURER: Mary Beth Snyder AE7GT was reelected
SECRETARY: Jay Holcomb WA0WWW was reelected
Existing 2015 Vice-President Gary Bytner will serve out his term this year.

THE LATEST ON THE SDXA DX NET
AND SPOTTING FREQUENCY

Due to the interference problems (yet to be solved) with the Idaho-based 147.08 MHz repeater that was being used both for the DX Net and the spotting frequency, here are the latest decisions:
DX Net: now on 3825 KHz on 75 meters (SSB) on regular third Thursday of each month at 7 pm local.
Spotting Frequency: back to the 147.16 KHz, 136.5 Hz tone repeater, located on the South Hill at 32nd & Grand Avenue; if the 147.08 interference is solved, we will probably go back to that frequency. There will be temporary coverage issues/gaps with 147.16 MHz (especially for those in Idaho).
Incidentally, a listing of the Washington state repeaters can be found at this LINK.

2015-2016 PNW CHALLENGE CUP COMPETITION
NEXT: November 28-29, 2015: CQ WW DX CW LINK
This is the competition between the leading NW DX clubs in ten particular contests throughout the contest year.
READ MORE
The Latest News



SDXA CALENDAR

2015
Nov 28-29 CQ WW CW (3/10)
Dec 3 SDXA Awards Banquet
Dec 17 3825 KHz SDXA DX net

2016
Jan 7 SDXA Jan meeting
Feb 3 the day the music died
Feb 4 SDXA Feb meeting
Mar 3 SDXA Mar meeting
Apr 7 SDXA Apr meeting
Apr 11 SDXA 14th birthday
Apr 22-24 Idaho Convention
May 7-8 7QP Contest
Aug 5-7 PNW DX Convention

2017
Aug SDXA PNW DX Convention




JOIN THE SDXA

Regular dues – $20 per person.
Second family member – $10.
Under 19 years of age are free.
DUES LINK.
We accept PayPal too.




WANT TO ATTEND A NW HAM RADIO CONVENTION OR SWAP MEET?

Lynn N7CFO keeps the best listing.




2015 SDXA MARATHON; MANY CATEGORIES TO WIN AN AWARD

The 2015 local contest runs from January 1, 2015 to October 31, 2015. Rules and spreadsheet form are at:LINK.






SDXA DX NET

Next on November 19 at 7 pm
every 3rd Thursday of the month
3825 KHz on 75 meters now


Randy W7TJ, Net Control




DX NEWS LINKS

by Randy W7TJ

1. DX WORLD.NET
2. ANNOUNCED DX OPERATIONS
3. DX SUMMIT
4. I2MQP DX NEWS
5. DXCOFFEE




SDXA MEDIA LIBRARY




INTERNET ENTITY PRONOUNCER

How do you pronounce a DX entity's name? Do you battle it out at the club meeting with another DXer? Here is a link to the pronouncing. There is also a audio link to a human voice saying the entity's name correctly. This authority is the 3rd edition Merriam Webster Geographical Dictionary.
More Information




MEMBERSHIP ROSTER ACCESS

Active SDXA members can request a copy by email. Contact Secretary Jay WA0WWW. A simple list of members, and links to their QRZ.com sites, is at the Membership Tab.




HAVE YOU WON A RECENT AWARD?

If you have achieved a recent, important award, let us know so we can publicize it.
Photos appreciated.
Send to: stetrekve at hotmail.com
Recent News
HOW DID THE SDXA START?


.
2015 SALMON RUN RESULTS RELEASED


.
LANCE W7GJ TO RECEIVE ARRL FRED FISH AWARD #7


.
IS GEORGE W6AEA BEHIND IN ANSWERING BUREAU QSL CARDS?


.
THE ARTICLES TAB AT THE TOP OF THE PAGE


.