.

OCTOBER SDXA MEETING THIS WEEK
THURSDAY, OCTOBER 2, 7 PM @ ARGONNE LIBRARY
(more details in NEXT MEETING sidebar to the right)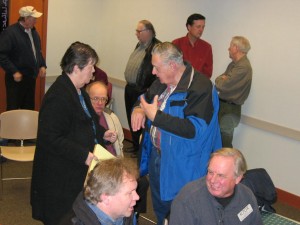 A MEETING FROM THE PAST
CHUCK KI7DG RECEIVES
CERTIFICATE OF RECOGNITION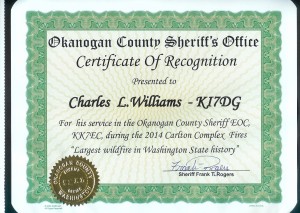 .
Chuck says that during the largest fire in Washington state history in Okanogan County, he was manning the EC. He is an Assistant EM Coordinator and his job was to staff and man the EC. Sheriff Frank Rogers presented Chuck and others, who worked in the EC, with Certificates of Recognition. Good Job, Chuck!!
SEPTEMBER MEETING MINUTES AVAILABLE
MINUTES LINK
2014 SALMON RUN PHOTOS
Randy K7TQ & Jay WA0WWW

ANTENNA ACTIVITY AT THE QTH OF K7AWB
There has been activity on antennas this Summer at the home of Steve K7AWB. The Force 12 MAG620 (20 meter 6-element) blew a balun probably during a lightning storm and was removed, the balun replaced, and the antenna reinstalled on top of the Rohn 45 tower #1. The M2 2M5WL (2 meter 17-element) was removed and replaced with a M2 6M7 (6 meter 7-element) at the top. The 2 meter antenna will go up soon at the top of the Rohn 25 Tower #2. Also, a Force 12 5BA (5 band 15-element) will go on that tower. 1/2″ Heliax is being installed from some of the antennas to the bottom of the towers to junction boxes. All the work is not done yet, but the hope is to finished before the snow flies. Here are a few pictures.
READY FOR SEASIDE IN OCTOBER?

The annual PNWVHFS (Pacific Northwest VHF Society) conference is in Seaside, OR this year on October 11-12. Its a fun event with most attendees technical. Several SDXA members are attending.
JOIN THE SDXA
Regular dues are $20 per person; A second family member is just $10
Under 19 years of age, its free
Here's the link to the details: DUES LINK and we accept PayPal too!
The Latest News



PLANNING TO ATTEND A NORTHWEST HAM RADIO CONVENTION, SWAP MEET, OR OFFICIAL GATHERING?

Lynn N7CFO keeps the best listing.






MEMBERSHIP LIST ACCESS

The listing of active members, with their emails, addresses, and phone numbers, has been withdrawn from this site for privacy concerns. Any active member can request a copy for themselves by email by contacting our Secretary Jay WA0WWW. We still have a list of members and a link to their QRZ.com sites under Membership located below the mountain logo on the homepage.




2014 SDXA MARATHON STARTED ON JANUARY 1, 2014

The 2014 local contest runs from January 1, 2014 to October 31. This is YOUR year to enter and win your category! Results on the official spreadsheet are due to Jay (SDXA secretary) by 23.59Z on Nov 14.




JULY MEETING MINUTES POSTED




HAVE YOU WON A RECENT AWARD?

If you have achieved a recent, important award, let me know so we can publicize it. Photos appreciated too.
Send to: stetrekve at hotmail.com



SDXA DX NET
ON 3RD THURSDAYS
ON OUR 2-METER FM REPEATER

NEXT: OCTOBER 16 – 7 PM

Randy W7TJ started a DX net to increase our repeater usage and spread the word on where the DX is. It is on the 3rd Thursday of each month on our 147.16 MHz repeater (tone specifications are on the right side of this page).




DX NEWS LINKS

Randy W7TJ came up with the idea of listing links to sites where info on DX is found. Here are the first few.
1. DX WORLD.NET

2. ANNOUNCED DX OPERATIONS
3. DX SUMMIT BAND SPOTS
4. I2MQP DX NEWS




MEMBERSHIP CHAIRPERSON WANTED

Main duties: solicit new members, entice old members to rejoin, send out email notices at the beginning of the year for renewals, and contact late paying members who have not paid. Contact President Chris Pritchard WX7B.




INTERNET ENTITY PRONOUNCER

What is the correct way of pronouncing a DX entity's name? Do you battle it out at the club meeting with another DXer who differs from you?
Here is a link to the entities in alphabetical order. On the site, there is also a audio link to a human voice saying the entity's name correctly. This authority is the 3rd edition Merriam Webster Geographical Dictionary.
More Information



Recent News
2013-2014 PNW CHALLENGE CUP FINAL RESULTS


.
BUYING YOUR SDXA HAT AND BADGE


.
N6MJ AND KL9A TAKE WRTC-2014 GOLD


.
2014 FIELD DAY PICTURES


.
RECENT MAGAZINE ARTICLES BY MEMBERS AND FRIENDS


.