.
SDXA DX NET TONIGHT, THURSDAY, DECEMBER 18 AT 7 PM
HAVING TROUBLE ACCESSING THE CHANGE OF REPEATER FOR OUR MONTHLY DX NET?
147.08 MHz …. 100 Hz tone …. +600 Hz offset

Here are some suggestions:
1) Be sure to use vertical polarization on your antenna
2) Put up a small vertical polarized beam if necessary and find the best signal strength direction
3) Higher is usually better unless you live in a hole where that may not help
We would like all of our members to be able to access this repeater on Idaho Mica. It is relatively unused and a great place to mention your rare-DX spots to the other members listening
HAVE YOU PAID YOUR 2015 SDXA DUES?
PAY BY MAIL OR PAYPAL
GARY K7GS RECEIVES HIGHEST AWARD IN HAM RADIO
To receive this award, you must work and confirm every ARRL recognized entity (mostly populated countries) in the World, all 340 of them. It's not a weekend task, but takes many years as many of the rare entities are not populated by any hams (or people) so one must wait for a DXpedition, a group of hams, to go to that entity and operate from it, a very expensive proposition. For instance, Gary's final (340th) contact was with a French DXpedition to Tromelin Island (FT4TA). Before that, the last DXpedition to that island was in the year 2000. Congratulations to Gary!
WELCOME NEW MEMBER
JIM FULLER K7THM OF SANDPOINT, ID
JANUARY MEETING CHANGE OF DATE:
DUE TO THE 1ST THURSDAY BEING JANUARY 1,
THE MEETING WILL BE ON THE 2ND THURSDAY,
JANUARY 8 AT THE NORTH SPOKANE LIBRARY

2014 ANNUAL AWARDS BANQUET AWARDS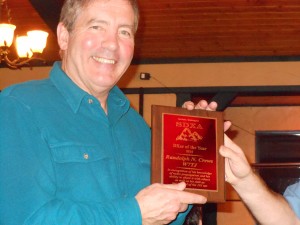 DXer of the year:
Randy W7TJ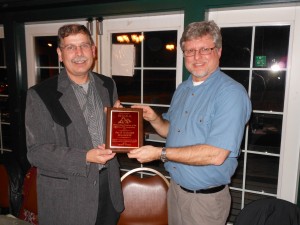 President's Award: Jay WA0WWW (on left side)
2013-2014 PNW CHALLENGE CUP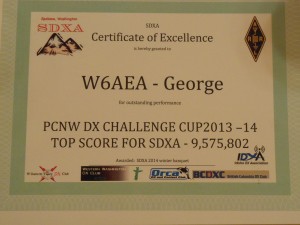 – SDXA member high score: George W6AEA 9,575,802 points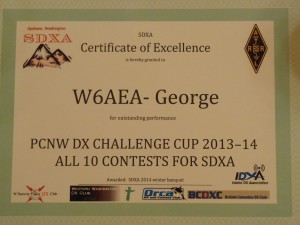 – 100% participation in all 10 contests: George W6AEA & Jay WA0WWW (Jay has been in all 10 contests for the last six years; total = 60!)
SDXA MARATHEON
– Unlimited Class – Working: Chris WX7B – 229 entities
– Unlimited Class – Non-working: Gary AD7XG – 158 entities
– Formula Class – Working: Jay WA0WWW – 91 entities
2014 SALMON RUN CONTEST
– winner of SDXA plaque for: Single Operator in the Eastern Washington ARRL EWA Section running Low Power and in the Mixed Mode (2 or more of the transmitting modes used of three possible – CW, SSB, and Digital)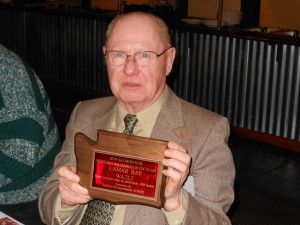 Lamar Ray WA7LT – this is his first time winning this plaque and we are pleased that the 2014 winner is a founding member of this Association!
SDXA SCORES FOR MEMBERS RELEASED IN FIRST THREE
CONTESTS IN PNW CHALLENGE CUP
(posted December 6, 2014)
The Latest News



PLANNING TO ATTEND A NORTHWEST HAM RADIO CONVENTION OR SWAP MEET?

Lynn N7CFO keeps the best listing.




SOLAR DISPLAY HAS CHANGED

The display on the right side which displayed HF propagation parameters such as the A and K indices is no longer supported. Its author Julian Moss G4ILO recently died from brain cancer. So I have been experimenting with another from Paul Herrman N0NBH; it is above this message. Comments welcome.




MEMBERSHIP LIST ACCESS

The listing of active members (their emails, addresses, and phone numbers) has been removed from this site for privacy concerns. Any active member can request a copy by email by contacting our Secretary Jay WA0WWW. We still have a list of members and a link to their QRZ.com sites under Membership located below the mountain logo on the homepage.




2015 SDXA MARATHON STARTING SOON

The 2015 local contest runs from January 1, 2015 to October 31, 2015. Rules to be posted soon.




JOIN THE SDXA

Regular dues are $20 per person.
A second family member is just $10.
Under 19 years of age are free.
Here's the DUES LINK.
We accept PayPal too.




HAVE YOU WON A RECENT AWARD?

If you have achieved a recent, important award, let me know so we can publicize it. Photos appreciated too.
Send to: stetrekve at hotmail.com



SDXA DX NET CHANGE
NEW FREQUENCY!
ON 3RD THURSDAYS
ON A LOCAL 2-METER FM REPEATER

NEXT: DECEMBER 18 – 7 PM

Randy W7TJ started a DX net to increase our repeater usage to spread the word on where the DX is. The Net is on the 3rd Thursday of each month on the 147.08 MHz repeater (100 Hz PL tone) located on Idaho Mica Peak.




DX NEWS LINKS

Randy W7TJ came up with the idea of listing links to sites where info on DX is found. Here are the first few.
.
1. DX WORLD.NET






INTERNET ENTITY PRONOUNCER

What is the correct way of pronouncing a DX entity's name? Do you battle it out at the club meeting with another DXer? Here is a link to the entities. On the site, there is also a audio link to a human voice saying the entity's name correctly. This authority is the 3rd edition Merriam Webster Geographical Dictionary.
More Information



Recent News
DX SUMMIT – TRIED THE NEW SITE?


.
MEET YOUR NEW 2015 SDXA OFFICERS


.
MARYBETH AE7GT RECEIVES HER WAS & DXCC CERTIFICATES – CONGRATULATIONS ON THE LONG JOURNEY-


.
STEVE K7AWB FIRST WINNER OF PNWVHFS APPLE CERTIFICATE


.
AWARDS BY JOE KF7PBM


.