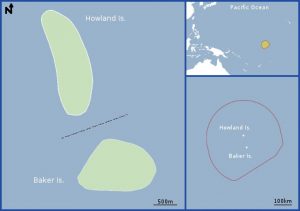 The Baker & Howland Islands are the forth most wanted entity from information on Club Log. The following DXpedition was cancelled.
According to YT1AD's web page:
Large expedition with Hrane YT1AD, team leader, Dave K3LP Co-leader and Aleksey, UA4HOX, planed to an island of the Pacific Ocean, Baker Island, which is part of group Baker & Howland Island, DXCC prefix KH1.
The IOTA reference for Baker & Howland Islands is OC-089. WAZ zone is 31.
Pointer: Lat: 0.505365 N, Lon: -176.572266 W
The expedition is planned for September/October 2017.
Landing on the island requires a special permit USFW service. Permit coming soon.
The team will be composed of members from WWDX, Interpid DXers and other interested amateurs.
This is the area of the Pacific Ocean that, during pre-World War II, the famous woman pilot Amelia Mary Earhart and her sidekick flight navigator Frederick Joseph Noonan disappeared without a trace. It was July 2, 1937.
Here is the latest news from DX World:
LINK