CLUB LOG
ARE YOU A MEMBER?
IT'S FREE & COOL

Club Log is a free database where you upload your log and its contents becomes statistics on worked DX for you.
It allows you to see your current DXCC counts and amounts from last upload.
As a member of SDXA, it compares your counts with other members and SDXA against other DX clubs.
Many DXpeditions and other DX use OQRS through Club Log for obtaining QSL cards from them.
It questions any weird contacts you may have to resolve them as either errors or new information for the large datebase on exceptions found in calls from long ago.
Here is a link that Chuck KI7DG wrote a while back: CLUBLOG LINK.
The problem is that SDXA was dropped from Club Log as a group (SDXA) because some of our members did not follow the Club Log Rule that you MUST UPOLAD AT LEAST ONCE PER YEAR your log to Club Log to stay active. We have dropped below the 15-member minimum. In order to get back on, you are requested to review your situation and upload again if you have not done that in the last 12 months. And if you have never been a member, join. Again, its free and you just need your call and a simple password.
In my case, yesterday, I uploaded again my entire log of some 20,000 QSOs. Took about two minutes. It is in the program called DX4WIN and has all my contacts from 2001. Only three new contacts were added out of that database since my last upload, but one of them was Libya, my 300th country. Now, in my Club Log database, it shows that correct count. Uploading is simply making an ADIF file of your log and uploading. And if you are still manually logging, well…..
Here is the CLUB LOG LINK for their site.
Club Log also generates a Most Wanted List from all the logs uploaded. Here is a sample.
1. P5 DPRK (NORTH KOREA)
2. 3Y/B BOUVET ISLAND
3. FT5/W CROZET ISLAND
4. KH1 BAKER HOWLAND ISLANDS
5. BS7H SCARBOROUGH REEF
6. BV9P PRATAS ISLAND
7. CE0X SAN FELIX ISLANDS
8. KH3 JOHNSTON ISLAND
9. VK0M MACQUARIE ISLAND
10. KH7K KURE ISLAND

TIME TO RENEW YOUR SDXA DUES FOR 2017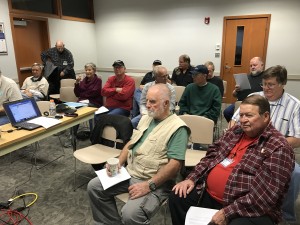 $20 PER YEAR – 2ND FAMILY MEMBER $10 –
UNDER 19 FREE

Pay your dues by PayPal
LINK
or
Pay a check to SDXA, PO Box 28882, Spokane, WA 99228 or
Pay at the November 4 (Friday) meeting

ANNUAL AWARDS BANQUET
DECEMBER 1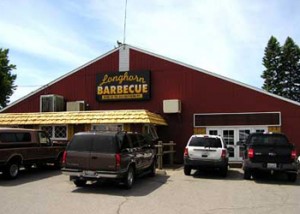 Longhorn BBQ
7611 W Sunset Hwy #2 – east end of Airway Heights
It's a BBQ buffet with three different meats including chicken, beef, and zesty pork.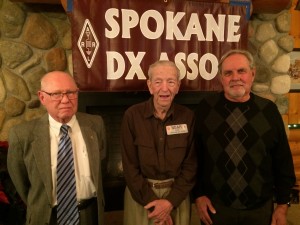 The SDXA founders at a previous banquet: Lamar WA7LT, Dan N5AR, & Gary K7OX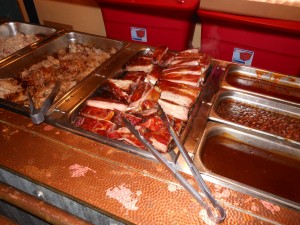 Typical food at the banquet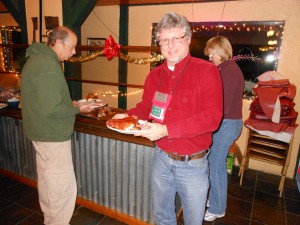 SDXA President Chris WX7B – is that the first time or going for seconds?
The 2016 Annual Awards Banquet will be December 1st this year, again at the Longhorn BBQ in Airway Heights. This is a great opportunity to meet new friends, rekindle old friendships, brag about your latest DX catch, and just have fun! Eyeball QSO's / "refreshments" start at 6PM, with the dinner starting at 7:00PM.
The cost for the banquet this year is $27.00 per person, which includes the gratuity.
You can pay by check to our treasurer Mary Beth Snyder AE7GT at our Post Office address at the top of this page.
Or to make it easier to pay, we offer a PayPal option with the button below. When you click the Add To Cart button, it will take you to our PayPal page showing 1 item in the cart. If two or more people are attending, just change the number in the Quantity box by using the minus (-) or plus (+) symbols next to the quantity. Once you are done, either click the orange-colored PayPal Check Out button on the page (and it will take you to your PayPal login page to finish your transaction) or select Check Out – Pay Without A PayPal Account if you do not have a PayPal account. Please be sure to note that once you log-in, there is a section at the very top of the page titled "Special Instructions" where it asks you to enter your name/call sign so we know who is coming and who paid us. Be sure to click this link and enter this information so we can keep a list of those attending.
We have to give the LongHorn a number count to ensure we have enough food and for Seconds.
We look forward to seeing you at the banquet!
.
See you there! Here are a couple of more Banquet pictures from the past: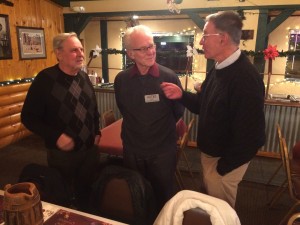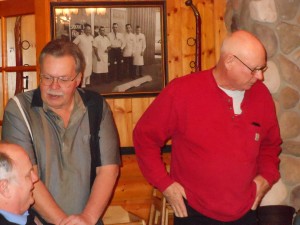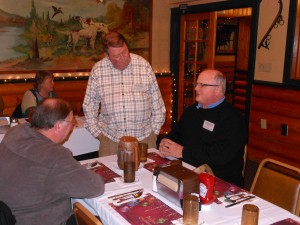 WELCOME NEW MEMBERS
WA7AQH – DEL MORISSETTE (Nine Mile Falls)
KS7C – DON CLARK (Omak)


SEPTEMBER & OCTOBER MINUTES RELEASED
SEPTEMBER LINK
OCTOBER LINK

THANKS TO CRAIG KG7H FOR THE PRESENTATION ON 6-METER EME AT THE OCTOBER MEETING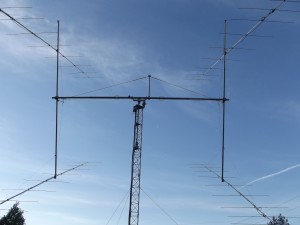 Craig KG7H discussed his 6-meter EME quad array using four M2 6M9KHW 9-element yagis and M2 positioners for both azimuth and elevation. He explained about using the popular digital mode JT65A software authored by Nobel Prize in Physics winner (1993) Joe H.Taylor K1JT. JT65A can decode EME signals below the noise floor. Here is the WSJT LINK to the WSJT home page of which JT65A is a part. He also mentioned that the leading EME expert in the world is Lance Collister W7GJ in Frenchtown, MT (this side of Missoula). Lance has a lot of information on EME on his home page at W7GJ LINK. Lance was one of the presenters at the SDXA-sponsored PNW DX Convention in Spokane Valley in 2013.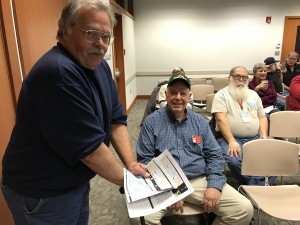 Here is Craig KG7H sitting in the middle discussing with Al W7AL standing on the left side at the October meeting.
Clark's QTH is in Clark Fork, ID (DN18).

GORDON AA6TQ GETS NEW TRIBANDER
Gordon now has a Cushcraft A-3S Yagi to supplement his G5RV and 80/40 dipole array.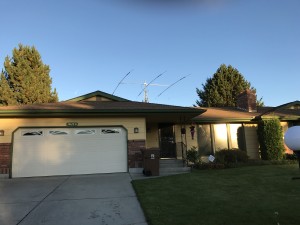 The new Cushcraft tribander on the house roof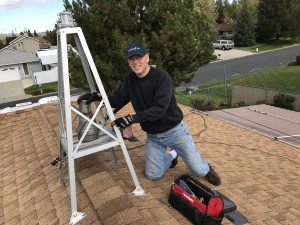 Mark K7HPT helps Steve K7AWB with the installation (Steve has the camera)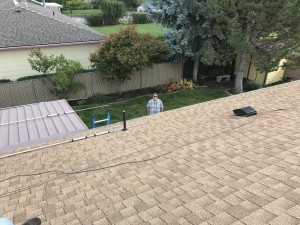 Gordon AA6TQ manages the installation from the ground level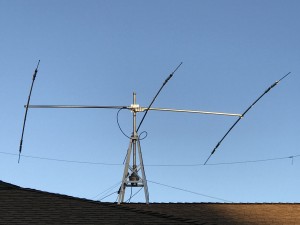 The antenna on a Glen Martin RT-424 rooftop tower

N7KR BACK ON THE AIR
Mike's SteppIR antenna and Rohn 25 tower on the South Hill came down during the November, 2015 windstorm. Here is a before and after set of pictures.
Congratulations to Mike on getting back up and running again.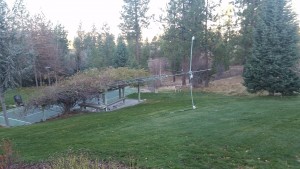 What the wind can do – converting vertical to horizontal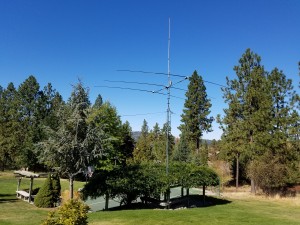 Back on the air

K7HPT'S ANTENNA AND TOWER
INSTALLATION ALMOST COMPLETED
Mark has a SteppIR antenna on top of a Rohn 45 tower. Future additions are 2 meter and 6 meter antennas for weak signal work. The installation consisted of Mark K7HPT, Gary AD7XG, and Steve K7AWB.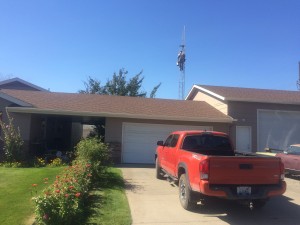 His tower, his house, and my orange-colored Inferno 1 Toyota (k7awb)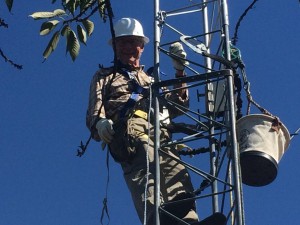 Gary AD7XG does the tower climbing on this project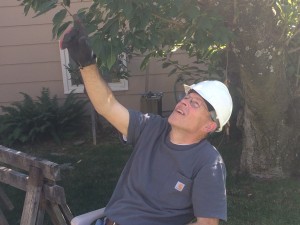 Mark asking Gary to move the antenna slightly to the right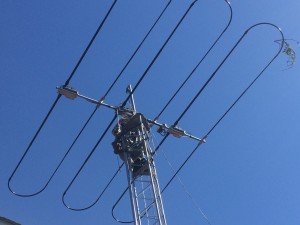 The SteppIR antenna wih a tree branch at no extra cost

SOMETIMES WORDS CANNOT DESCRIBE
THE BEAUTY OF A SUNSET
QTH OF STEVE K7AWB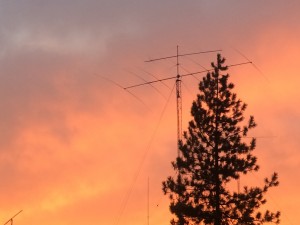 WHAT'S THIS TRAVELING CHALLENGE CUP
TROPHY AND TEN-CONTEST COMPETITION?
LINK


INFORMATION ON THE 2016 SDXA MARATHON

Runs from January 1, 2016 to October 31, 2016
New categories this year
Add up the number of countries (entities) worked this year (340 max) and add that to the number of zones you have worked (40 max) for your score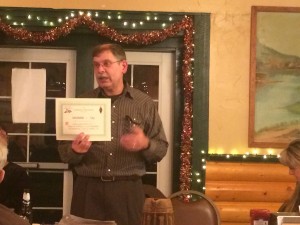 Here are the rules & the form to record your contacts. The form is in .xlsx format which opens with Microsoft's spreadsheet Excel or Corel's Quattro Pro. The form may take a while to load. The rules are in a .pdf format. You can win a certificate!!

2016 RULES LINK
MARATHON SDXA FORM LINK

SOLAR ACTIVITY AND PROPAGATION SECTION

For additional info, try this SOLAR LINK for everything you ever wanted to know about the current Sun at the SolarHam site by VE3EN
Here's a link to SPACEWEATHER.COM, a quick source for the daily activity on the sun
The Latest News



SDXA CALENDAR

2016

Oct 31 End of SDXA Marathon
Nov 4 November meeting
Nov 17 SDXA DX Net
Dec 1 Awards Banquet
Dec 15 SDXA DX Net

2017
Mar 16 SDXA 15th birthday
Aug 4-6 SDXA PNW DX Convention




JOIN THE SDXA

Regular dues – $20 per person.
Second family member – $10.
Under 19 years of age are free.
DUES LINK.
We accept PayPal too.




WANT TO ATTEND A NW HAM RADIO CONVENTION OR SWAP MEET?

Lynn N7CFO keeps the best listing.




MEMBERSHIP ROSTER ACCESS

Active SDXA members can request a copy by email. Contact Secretary Jay WA0WWW. A simple list of members, and links to their QRZ.com sites, is at the Membership Tab.




IARC ETHICS & OPERATING PROCEDURES



SDXA DX NET

Next on November 17 at 7 pm
every 3rd Thursday of the month
NEW FREQUENCY
145.25 MHz w/no tone, -600 KHz

Randy W7TJ, Net Control




DX NEWS LINKS

by Randy W7TJ

1. DX WORLD.NET
2. ANNOUNCED DX OPERATIONS
3. DX SUMMIT
4. I2MQP DX NEWS
5. DXCOFFEE
6. DXER.ORG
7. DXWATCH.COM
8. DAILY DX




SDXA MEDIA LIBRARY




INTERNET ENTITY PRONOUNCER

How do you pronounce a DX entity's name? Here is a link to the pronouncing. There is also a audio link to a human voice saying the entity's name correctly. This authority is the 3rd edition Merriam Webster Geographical Dictionary.
More Information




HAM RADIO EQUIPMENT REVIEWS

eHAM.net
More Information




HAVE A RECENT AWARD?





If you have achieved a recent, important award, let us know so we can publicize it.
Photos appreciated.
Send to: stetrekve at arrl.net
Recent News
BOB LEE N7AU RECEIVES 5-BAND DXCC PLAQUE


.
SDXA SUMMER PICNIC A GREAT SUCCESS


.
DAVID WELLS N7AM SAYS THANKS FOR THE SDXA-SPONSORED 7QP PLAQUE


.
QSL CARD TAKES 37 YEARS TO ARRIVE


.
GIANT WORK PARTY TAKES DOWN WA7LT


.